Quarterback Derek Carr Says He 'Loves Being a Las Vegas Raider'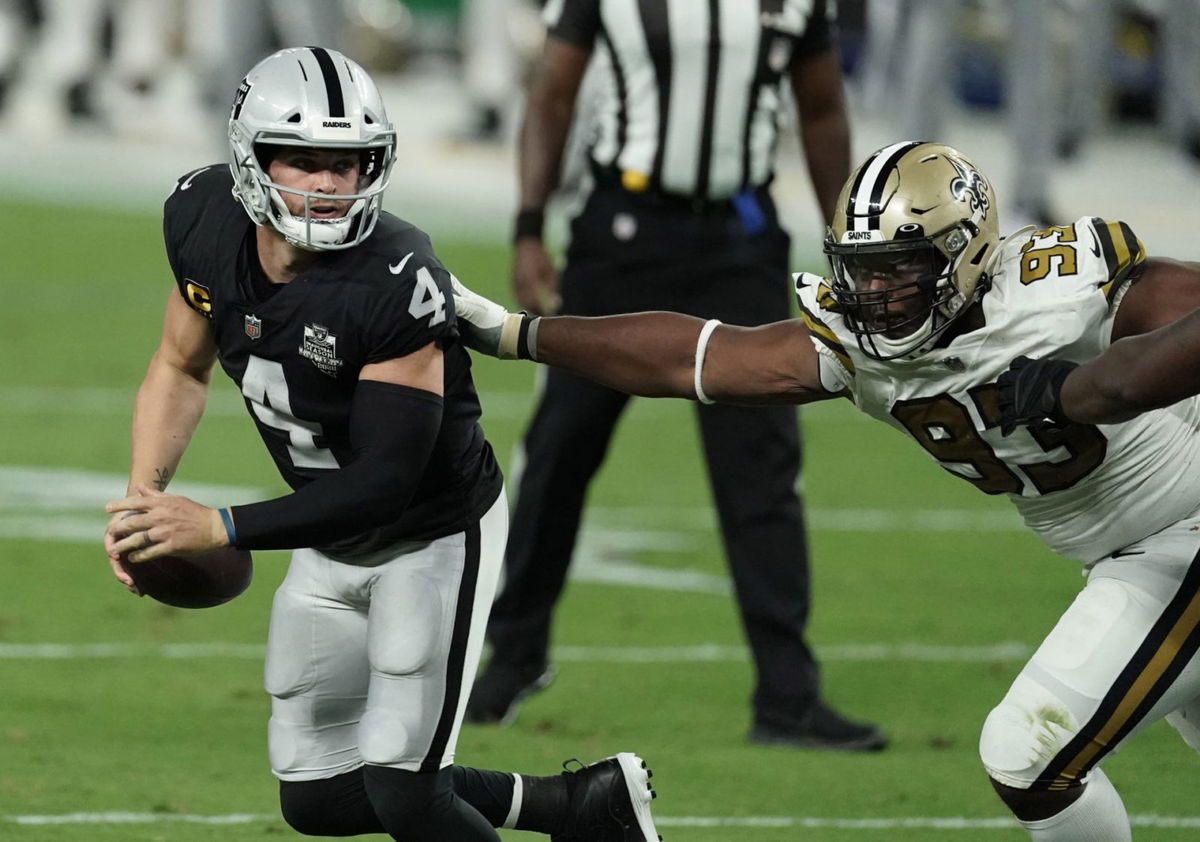 It's been a rough couple of years for seasoned NFL quarterback Derek Carr. The 29-year-old shot-caller has been with the Las Vegas Raiders (previously Oakland Raiders) since 2014. He was drafted in the second round of the 2014 NFL draft as the 36th overall pick.
He had a brilliant debut season with the Raiders, but hit his peak in 2015. He's endured some tough times over the last couple of years. But the Raiders have stuck by him in good times and bad, including Head Coach Jon Gruden, who joined in 2018.
Here's what Carr had to say about his employers in light of Monday night's epic win over the Saints.
ALSO READ- "Kyler Murray is One of the Most Dangerous People"- Arizona Cardinals Coach Lauds Quarterback
Derek Carr leads the Las Vegas Raiders to their first win at their new home stadium
— Derek Carr (@derekcarrqb) September 22, 2020
Derek Carr made a statement display during Monday night's win over the reigning NFC South champions, New Orleans Saints. Coach Jon Gruden raved on about his star player after the game. However, Carr spoke about how the Raiders' trust in him helped him get through several tough phases over the course of his NFL career.
He said, "I think you guys know. Some of you guys know how much this place means to me. I love being a Raider. I'm not going to ever play for anybody else. Love this place. This is home to me.
"This organization means everything to me. They stuck behind me through some hard times. Through some times our team, we struggled, there's no doubt about it. But when you get on the other side of things, to be 2-0 as the Las Vegas Raiders, that's a pretty cool thing, you know?"
Carr opens up on his endearing love for the Raiders organization
Derek Carr through two weeks:

‣ 521 passing yds
‣ 4 pass TD
‣ 0 interceptions
‣ 73.5 comp %
‣ Undefeated in Las Vegas
‣ Raiders 2-0 for first time since 2017#RaiderNation pic.twitter.com/rrYYGTdOLN

— CBS Sports HQ (@CBSSportsHQ) September 22, 2020
The three-time Pro Bowler further went on to elaborate on the role his dad played in developing a bond with the Raiders during his childhood.
He said, "The things that I grew up hearing from my dad about Kenny Stabler, my uncle telling me stories about when he played here about the guys, my dad showing me pictures of [brothers] David and Darren in Raiders jackets sitting on Santa's lap.
"It's been in our family for a long time and just like I told [Saints' defensive coordinator] Dennis Allen after the game, I said, 'Thank you so much for giving me my chance.'
"And I know he probably didn't want to hear it, but every time I see him I tell him that. Because it means a lot to me," Carr concluded.
The Raiders have no time to celebrate. Their next game is against the mighty Bill Belichick's New England Patriots. Can the Las Vegas-based franchise remain unbeaten in the league at the end of Week Three? Guess we'll have to wait and watch.
ALSO READ- "Rodgers Wasn't Playing Like this Under Mike McCarthy"- Analyst Singles Out Packers Coach For Special Praise