'Quarterback of the Future' – 49ers Coach Kyle Shanahan Settles Trey Lance-Jimmy Garoppolo Debate For This Season
Published 10/28/2021, 7:45 AM EDT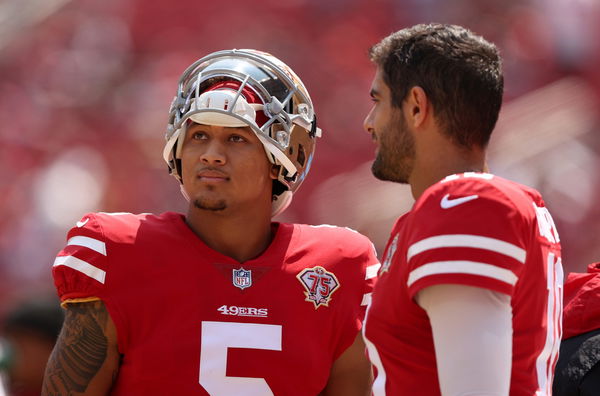 ---
---
Saying San Francisco 49ers are in trouble is an understatement. Their quarterback issue perfectly highlights the mess the team is in right now. With Trey Lance on hand, the 49ers' overdependence on veteran quarterback Jimmy Garoppolo has dragged the team down. Since they reached the Super Bowl in 2020, they've had two atrocious seasons.
ADVERTISEMENT
Article continues below this ad
San Francisco 49ers have had a terrible season
ADVERTISEMENT
Article continues below this ad
This season, San Francisco seemingly gained squad depth as they brought on a young Trey Lance. At 21, not only is he a young prospect but a wunderkind; someone the 49ers can depend on for the future. However, his development in the NFL would only begin if coach Kyle Shanahan preferred him over his veteran QB.
Jimmy Garoppolo is a San Francisco legend, especially after he took them to the Super Bowl game in 2020. Although they lost to Patrick Mahomes and Kansas City Chiefs, they put on a great show. They became favorites when they entered the next season, and that's where the downfall began.
Now, the 49ers stand 3rd in the NFC West, behind Arizona and Los Angeles Rams. To make matters worse, the Rams and Cardinals are head and shoulders above them this season. Most of the Niners' problems rose out of their quarterback issues. However, Kyle Shanahan has settled that debate in a recent interview.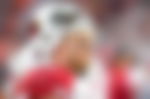 What did Kyle Shanahan say about Trey Lance and Jimmy Garoppolo?
ADVERTISEMENT
Article continues below this ad
"We didn't draft Trey to just fix this year." Shanahan continued, "We drafted him so he could be the quarterback of the future and that's a matter of time. We are not playing him just because what our record is, or just because. That's why our first discussion is how healthy is he and how is he going to look today. Just because of how our last four games have gone, it doesn't really affect if we're going to play Trey or not." (H/T NBC Sports)
"You don't just do that because you're not playing the way you want to play and think you're going to put a rookie in and think he's going to be the answer to everything. I don't think that's fair to him and I don't think that's right for the team." Shanahan continued, "I don't think it's the right time for him to start full-time right now, especially when I don't know if he can get through practice today. I want to see if he's healthy today first. And then when he's healthy, for more than one day, then we will see when it will be the best time for him." 
ADVERTISEMENT
Article continues below this ad
Is this a good stance to have entering week nine? Do the Niners have what it takes to reverse their fortunes? And most importantly, how will Lance and Garoppolo take this piece of news from their head coach? Stay tuned to know more.