Raiders DE Calls Out Antonio Brown For Calling Mental Health Facility a 'Crazy House': "Please Do Not Disrespect Those Who Are Trying to Be Better. Be Better'
Published 01/27/2022, 11:04 AM EST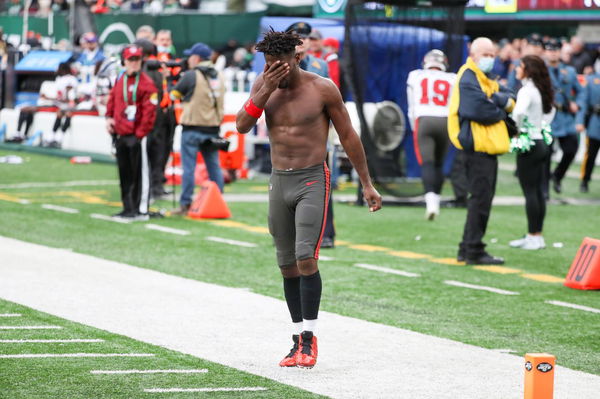 Antonio Brown has become the topic of discussion once again. This time he is being called out by a certain Las Vegas Raiders player. The defensive end Solomon Thomas has taken offense to some remarks made by Brown. 
After a recent interview, the former Buccaneers wide receiver has faced some backlash. While calling out his former employer, AB made a remark that related to a mental health facility. According to many including Thomas, this was not the right thing to do. The Raiders defender has called out Brown and told him to be respectful and better. 
ADVERTISEMENT
Article continues below this ad
Antonio Brown calls mental health facility a 'Crazy House'
Antonio Brown recently did an exclusive interview with HBO. The interview aired on Tuesday. During the interview, Brown and his lawyer revealed that the Buccaneers were trying to pay Brown a large sum in order to get mental health treatment. Tampa offered him $200,000 for the treatment. The Buccaneers were concerned about Brown's mental health. 
But later in the interview, Brown said that the Buccaneers tried to pay him to go to the "Crazy House." He compared their mental health facility to a crazy house. This comment was insensitive towards the people who are actually dealing with issues like these. 
Raiders DE Solomon Thomas takes issue with Antonio Brown describing a mental health facility as a "crazy house"

Brown says the Bucs offered him $200K to get treatment pic.twitter.com/a13787hPtd

— B/R Gridiron (@brgridiron) January 26, 2022
The Raiders DE Solomon Thomas called Antonio Brown out. He put up an Instagram story and wrote, "Lawyer is worried about a disservice to those who struggle from mental health. While his client is calling a mental health institution a 'crazy house.' Please do not disrespect those who are trying to be better. Be better."
ADVERTISEMENT
Article continues below this ad
Thomas has asked Brown not to disrespect the people who are trying to be better but make himself better. He held nothing back while criticizing AB. 
Solomon Thomas is an advocate for mental health awareness
In 2012, Thomas launched a non-profit organization in honor of his late sister Ella. The name of the foundation is 'The Defensive Line Foundation'. Their goal is to stop young suicides and spread awareness about mental health. Solomon also donated $8,000 for every sack he made in the 2021 season. 
ADVERTISEMENT
Article continues below this ad
So Antonio Brown, calling a mental health facility a "Crazy House" did not sit well with Thomas. For the Raiders star, this matter is personal. He is trying to help everyone who needs it. 
Watch This Story: Every NFL Teams Most Disappointing Player Of The 2021 Season