Rams Coach Recounts Crazy Coincidental Encounter With Bobby Wagner & DK Metcalf Ahead of Trade to LA
Published 05/13/2022, 1:00 PM EDT

Follow Us
The Los Angeles Rams won the Super Bowl last season. Despite their players performing exceptionally well throughout the season, their head coach Sean McVay also deserves some credit for their success. He has transformed himself into one of the best head coaches at such a young age. He recently appeared on the Rich Eisen Show, and he shared his unexpected encounter with Bobby Wagner during the offseason.
Bobby Wagner is the newest addition to the LA Rams, and he filled the void left by Von Miller. Von was a crucial part of the Rams' defense last year but he signed for the Buffalo Bills recently. As a result, the Rams acquired the former Seahawk Wagner to keep them in contention for the Super Bowl once again.
ADVERTISEMENT
Article continues below this ad
Sean McVay's encounter with Bobby Wagner was before the latter had joined the Rams. He was still a part of the Seahawks, which is why this encounter was quite special. Rich Eisen in his show asked McVay whether he really enjoyed his vacation or was busy meeting with the likes of Robinson and Wagner, the two newest additions of the Rams.
Mcvay replied, "No you know what's funny though, I did actually run into Bobby Wagner prior to him leaving the Seahawks at Wally's in Beverly Hills with a couple, uh I was I was with Raheem Morris and Chris Schula, and we ran into him, and DK Metcalf and I said Hey, maybe this means something and what do you know now he's a Ram." He added, "Not tampering though, I was not tampering, said hello, how you guys doing." 
ADVERTISEMENT
Article continues below this ad
Bobby Wagner will lead the Rams' defense with Aaron Donald
With Von Miller joining the Bills, the Rams have got another veteran to their defense. Bobby Wagner, the former Seahawks linebacker will share the field with Aaron Donald. AD is considered one of the all-time great defensive players of the NFL and will cherish his opportunity of playing with another legend in Wagner.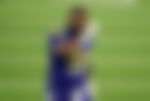 Both of them have won 1 Super Bowl each, and they would love to add another one. The Rams once again will be among the favorites to win the Super Bowl. On the offensive end, Matthew Stafford's confidence will be at the next level, and he can lead this team to another great campaign in his second year in LA.
ADVERTISEMENT
Article continues below this ad
Watch This Story: Tom Brady vs Aaron Rodgers, Patrick Mahomes vs Josh Allen: Top 5 Must Watch Matchups of the NFL 2022 Regular Season