REPORT: Concerning News Develops for LA Rams Fans as QB Matthew Stafford Reported to Be Injured Just Ahead of Season Start
Published 08/06/2022, 5:30 AM EDT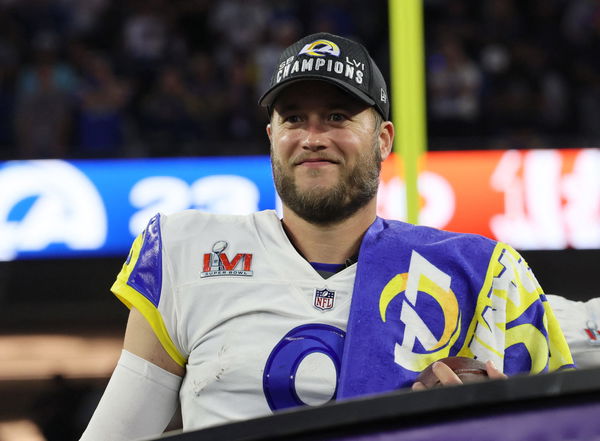 Super Bowl-winning champions LA Rams might have new trouble brewing up. The team had minor issues with contracts and negotiations but their QB situation was all figured out. Now, news of their QB being injured is causing panic amongst fans and possibly the Rams' camp. Matthew Stafford is reportedly suffering from bad elbow tendinitis.
The NFL 2022 season is around the corner and this comes as concerning news for the Rams. Additionally, he is going to sit out training drills as the training camp begins ahead of the pre-season in the second week of August. Rams HC Sean McVay revealed that Stafford won't participate in team drills for now, raising concerns about his elbow.
ADVERTISEMENT
Article continues below this ad
The Rams' QB underwent a medical procedure in the offseason. Matthew Stafford also wore a brace briefly to limit his range of motion while healing. He did not throw during the off-season workouts but is still dealing with the issue leading into training camp.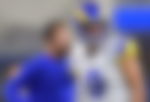 McVay elaborated on his plans. On the other hand, NFL insider Ian Rapoport shed light on elbow tendinitis. But McVay has not acknowledged the propensity of the injury yet.
What did Sean McVay say about Matthew Stafford and his plans for him at LA Rams?
Speaking about Stafford's future, HC McVay said, "It's just more of, when you really look at the totality of it, want to try to have him operate in as little as pain as possible. I think anytime that you've played as long and are as tough as he is, I don't know if you're ever truly pain-free, but the goal would be for Sept. 8 and really looking toward 17 games then hopefully some games after that if we earn that opportunity."
ADVERTISEMENT
Article continues below this ad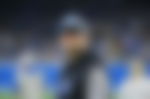 "That's kind of the perspective and the big picture approach that we want to be able to take. I don't know that I would feel as comfortable taking that approach if it wasn't for the experience that he's accumulated…" McVay added.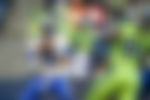 Watch This Story: LA Rams quarterback Matthew Stafford and wife Kelly's relationship timeline from college sweethearts to parents of 4
ADVERTISEMENT
Article continues below this ad
The Los Angeles Rams will undoubtedly monitor Stafford's injury closely as they wouldn't want their star QB to miss out on an entire season due to injury. Time will tell how his injury heals and how fit he gets ahead of the regular season.