REPORT: New York Jets Rejected First Round Pick From 49ers for Sam Darnold
Published 04/16/2021, 12:59 PM EDT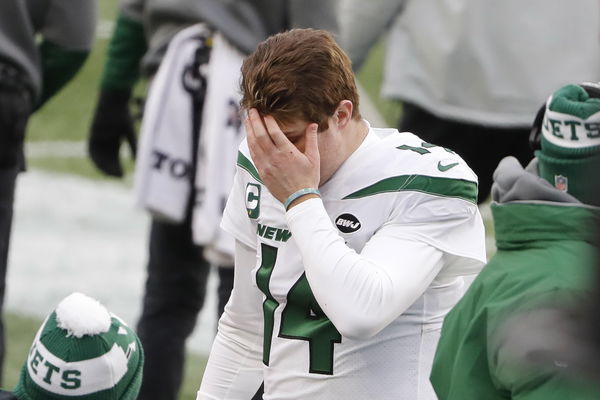 ---
---
After months of speculation, Sam Darnold finally has a new home. The former New York Jets quarterback lost a lot of momentum and acclaim in the 3 seasons that he played with them.
ADVERTISEMENT
Article continues below this ad
However, now he gets a chance to start fresh after the Jets decided to send him away. Darnold now plays for the Carolina Panthers, but it could have been a different NFL franchise if the Jets had decided to jump on the offer.
NFL analyst Cecil Lammey revealed that Sam Darnold could have easily gone to another team – the San Francisco 49ers. The 49ers offered their 2021 1st-round pick, the one they eventually moved up from, to the New York Jets. However, the management had doubts about Zach Wilson, and how his injury history would affect his game.
ADVERTISEMENT
Article continues below this ad
Ah, what might have been. League sources tell me #Jets turned down #49ers first-round pick for Sam Darnold earlier this offseason. Joe Douglas & co. had concerns about Zach Wilson's shoulder & wanted to see his pro day. Now, super confident & will likely be no2 pick #NFLDraft

— Cecil Lammey (@CecilLammey) April 14, 2021
But now, the Jets have found full confidence in Wilson. Therefore, they sent Sam Darnold to the Carolina Panthers for a low haul. The Jets got a 2021 6th-round pick, and 2022 2nd and 4th-round picks for the former #3 overall pick.
For Darnold, this trade offered him a chance to make the Jets look foolish by completely transforming into the player everyone thought he would eventually become.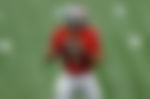 Sam Darnold getting a new fresh start
It is surprising that the New York Jets chose to pass up on the offer of a 1st-round pick. Getting the 49ers' (then) 12th pick in the draft would have been extremely helpful in providing more quality to the offensive line that would be operated by the new quarterback.
However, given the doubts that they had regarding Zach Wilson's health at the time, the decision is somewhat understandable. Nonetheless, with the benefit of hindsight, the Jets will be wishing they had taken that deal.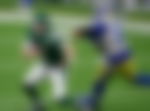 For Sam Darnold, his upcoming stint with the Carolina Panthers is the biggest opportunity of his career. Three seasons in New York only hurt his career. However, he did face several challenges with the franchise.
ADVERTISEMENT
Article continues below this ad
Over the three years that he spent there, Darnold had to see the coach and the General Manager that drafted him walk away from the team. That would have been a demoralizing blow for him.
Can Sam Darnold redeem his career with the Panthers? Playing in a smaller market, for a team that has the tools to be successful could be a good deal for him. However, he needs to work very hard in order to find success in Carolina.
ADVERTISEMENT
Article continues below this ad
MORE- WATCH: 49ers Legend Jerry Rice Has Special Message for Justin Fields Ahead of His Second Pro-Day