REPORTS: Mutiny Against Russell Wilson in Broncos Camp After Sideline Spat Exposes Lack of Leadership
Published 11/30/2022, 7:30 PM EST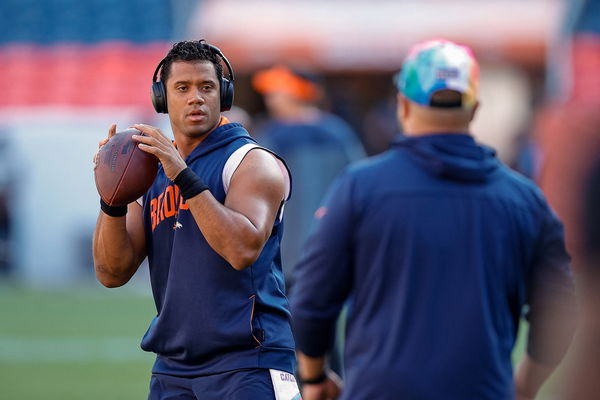 The Denver Broncos suffered another major hit last Sunday after a shocking loss to the Carolina Panthers. Quarterback Russell Wilson and his offense continued their poor display this season after putting only 10 points on the board. However, the biggest highlight of the game was surely what looked like a sideline spat between Russell Wilson and Denver defensive tackle Mike Purcell.
When Broncos Nation welcomed Russell Wilson in August this off-season, hopes were in the 'ride-high' zone for Denver. However, things have gone terribly wrong for DangerRuss and his new team. They currently sit at the bottom of the AFC West Division after three back-to-back losses. And DT Mike Purcell couldn't keep his frustrations hidden.
ADVERTISEMENT
Article continues below this ad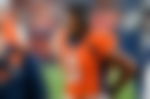 Even though Denver Broncos head coach Nathaniel Hackett has shared a major fraction of the criticism for the Denver disaster this season, Purcell directed his energy solely towards his QB, Russell Wilson. Many think this is a sign of disrespect coming from a defensive tackle and is indicative of a lack of leadership in the dressing room. Wilson and Purcell both addressed this heated exchange in the post-match presser after the 23-10 loss to the Carolina Panthers.
Russell Wilson doesn't think there's anything wrong with Purcell's action
Russell Wilson had a mediocre game against the Carolina Panthers. The former Seattle Seahawks QB completed 19 out of his 35 passes and 1 touchdown. However, even after 35 attempts, Russ could only gain 164 yards from throwing the ball. And many think the troubles on-field, have their roots back in the locker room. "That stuff does not happen in locker rooms. You do not speak to QBs like that especially if you're a defensive player. You don't see that kind of behaviour unless you don't respect the QB," former NFL player and analyst Emmanuel Acho said.
ADVERTISEMENT
Article continues below this ad
Broncos wide receiver K J Hamler showed excessive disappointment after Russell Wilson couldn't connect with him against the Jacksonville Jaguars this season. Echo said that this disrespectful behavior doesn't bode well for Denver because QBs have missed passes before. However, Wilson and his teammate, Mike Purcell, disagreed with the consensus and clarified that they were on the same page throughout the game. "He said let's F-ing go. And I agreed," said 9x Pro Bowler Wilson.
ADVERTISEMENT
Article continues below this ad
WATCH STORY: One line from Russell Wilson's tribute to his father shows Broncos QB has a heart full of love
The Broncos fell to 3-8 for the season and their playoff hopes have completely disappeared. Up next, Russell Wilson and Denver are on the road against Lamar Jackson and the 7-4 Baltimore Ravens.