Respect or Apology? Myles Garrett Re-Injures Aaron Rodgers' Broken Pinky Toe
Published 12/26/2021, 11:07 AM EST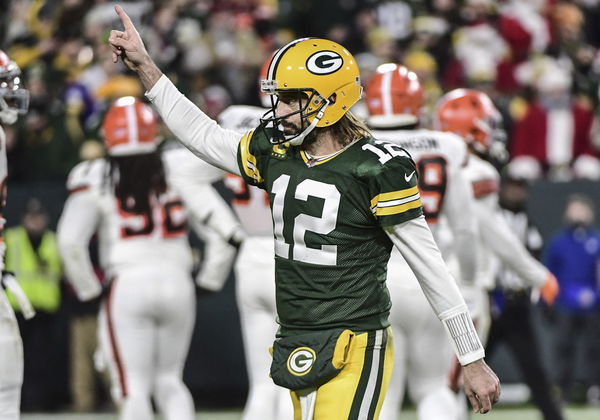 ---
---
A lot of eyes were on the Week 16 affair between the Green Bay Packers and the Cleveland Browns. There were a couple of reasons why people tuned in for the game on Saturday night. The match took place on Christmas. The reason for Packers fans in particular to tune in was to witness Aaron Rodgers make franchise history.
ADVERTISEMENT
Article continues below this ad
As expected, Rodgers did succeed in breaking the record set by Brett Favre. However, after making history in the dying moment of the first quarter, Rodgers might have injured his toe again. The Browns' defensive end, Myles Garrett, could be responsible for it. 
ADVERTISEMENT
Article continues below this ad
Does Aaron Rodgers' injury get worse?
All of the Packers fans had high hopes for the game. The most important thing for them was to watch Aaron Rodgers take over the record set by Brett Favre. Rodgers already had a setback with his injured toe. But he has been pushing through for several weeks. In the past few days, the toe had recovered pretty well. Rodgers was feeling good, and he was ready to go. 
Aaron Rodgers broke the record in the first quarter of the game. But a few minutes after that, the Packers were on the attack again. Rodgers threw the ball towards Allen Lazard. But just as the ball left Rodgers' hand, the Browns Myles Garrett kicked his left foot. Garrett accidentally hit the outside of Rodgers' left foot. That is where the broken pinky is.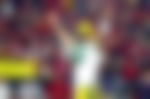 After the play, Myles walked towards Rodgers, and both the players were having a conversation. It seems like there are no hard feelings between the two as they shook hands after talking. Maybe Garrett apologized for stepping on the toe, or he congratulated Rodgers for breaking the record. The Packers won the game after Rodgers threw two more TD passes.
Rodgers gives an update on his foot after the match
After the match, Aaron Rodgers did a post-match interview with Erin Andrews of Fox Sports. During the interview, Rodgers addressed re-injuring his toe.
ADVERTISEMENT
Article continues below this ad
a broken pinky toe is such an aaron rodgers type of injury

— jp (@jpalm3rr) December 25, 2021
He said, "This was the first week that the toe felt really good," Rodgers adds, "So, I was disappointed to get stepped on. It just kind of set it right back to where it was a few weeks ago, but that's the way it goes. It wasn't on purpose. It's frustrating, but we got the win." 
ADVERTISEMENT
Article continues below this ad
It seems like the recovery was undone. But Rodgers knows it was an accident. It looks like he needs to take good care of his pinky toe if he wants to perform his best in the next few games.