"Respectfully and Disrespectfully, There's No Comparison": Former NFL Player Bothered By Antonio Brown Comparisons
Published 01/03/2022, 8:31 AM EST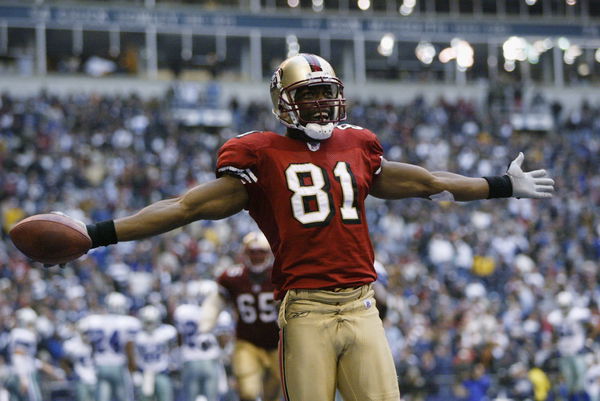 ---
---
By now, everybody knows what Antonio Brown did on the field in Week 17. It was nothing new from the wide receiver. He has a long list of temper tantrums and this was just another notch in his belt. Brown quit the Tampa Bay Buccaneers in style as he walked off the field in the middle of the game.
ADVERTISEMENT
Article continues below this ad
Many fans noticed this, and it reminded them of another 'Diva' of the NFL. There was something similar in Brown's behavior last night. It had shades of none other than the legendary Terrell Owens himself. T.O. was known to be somewhat of a prima donna back in his day. When a few fans pointed out the similarities, Owens wanted nothing to do with Antonio Brown. 
Antonio Brown's bizarre exit from Tampa Bay
ADVERTISEMENT
Article continues below this ad
It was just another game in the NFL. The Bucs expected it to be a walk in the park, but the Jets were on their A-game. They were giving Tampa a run for their money. The Jets had the upper hand for most of the game. 
In the third quarter, Antonio Brown decided he had enough and made his exit. The wide receiver took off his jersey and shoulder pads. Brown stripped his shirt along with his gloves and tossed it in the crowd. With both teams still on the field, Brown marched down the Jets' end zone, threw up a peace-out sign, and walked off. 
Nobody really knows the reason for his departure. Some say he did this because of the money, some say it's because of playtime, and some say he did it because he is Antonio Brown. Whatever the reason might be, there was something familiar about the incident.
Terrell Owens does not want to be compared to Antonio Brown
ADVERTISEMENT
Article continues below this ad
After watching the bizarre antics of Brown, one fan could not help but ask who is the biggest diva? He tweeted "Biggest Dive: Antonio Brown or Terrell Owens." T.O. does not appreciate the comparison as he quoted, "Wow. Respectfully and Disrespectfully, there's no comparison." He adds, "Clearly you've been drinking the kool-aid." 
ADVERTISEMENT
Article continues below this ad
Fans cannot help but connect the similarities between the two. Back in his day, Terrell Owens was known for some pretty notorious things. Being forced out of teams, fighting, holding grudges, Owens has done it all. He was always in the spotlight of something. Everything Antonio Brown is doing today, Terrell Owens has already done that before.
Watch Stories: Five Things That Took Place When Aaron Rodgers Threw His First TD Pass for Green Bay Packers