Resurfaced Video Of Steelers WR George Pickens Slamming College Football Player Into A Wall Amidst Recent Sideline Outburst Against Falcons
Published 12/08/2022, 4:16 AM EST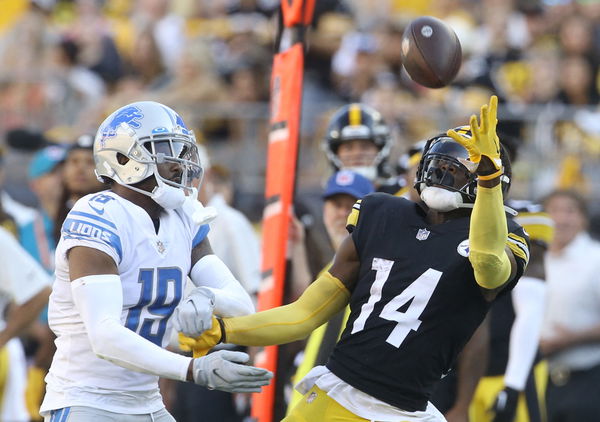 On Sunday, The Pittsburgh Steelers beat the Atlanta Falcons to get their fifth victory of this lackluster season. Apart from the victory, one particular incident involving the Steelers' wide receiver George Pickens grabbed all the headlines. Notably, the 21-year-old WR looked frustrated and vented his frustration on the sidelines. After his outburst, an old video of him slamming a player into a wall resurfaced on the internet, which garnered plenty of attention as well.
It is worth noting that Pickens used to play for Georgia Bulldogs during his college days. Then, the Steelers picked him up in the second round during the 2022 NFL draft. And it has been a decent season for the WR until his outburst against the Falcons. 
ADVERTISEMENT
Article continues below this ad
Steelers' WR George Pickens' old video resurfaced after his outburst against the Falcons
Earlier, a Twitter user posted the video where Pickens could be seen getting into a tussle with a Georgia Tech football player. Then he showed his enormous strength and pushed his opponent to the wall until the referee intervened. You can watch the video below.
During this Sunday's game, many saw him shouting and screaming on the sidelines. Notably, he had only one catch in the game against the Falcons for two yards. Throughout the entire game, he looked frustrated for not getting the ball enough. Hence, he vented his frustration on the sidelines.
Later, reporters asked the head coach of the Steelers, Mike Tomlin, about Pickens' outburst on the sidelines. In reply, he said, "I'd rather say whoa than sic 'em… I want a guy that wants to be a significant part of what we do."
ADVERTISEMENT
Article continues below this ad
However, Tomlin assured that Pickens will be working with the other coaching staff to behave in a more mature way. On Wednesday, Pickens talked to the media and explained his behavior on the sidelines. "I feel like every player got that in him, it is just what you record… Don't try to make something it's not… It's just what you want to make it out to be," Pickens explained.
ADVERTISEMENT
Article continues below this ad
This season, Pickens started 7 games for the Steelers; overall in 12 games, he recorded 512 receiving yards for two touchdowns. On the other hand, the Steelers are in last place in the AFC North division with five wins and 7 losses. Safe to say, their season looks already over, as they have a very less chance of making the playoffs.
Watch This Story: Tom Brady addresses his ugly sideline meltdown during humbling loss to Pittsburgh Steelers
Edited By: Gurjyot Singh Dadial