REVEALED! Rams Safety Eric Weddle Led The Team On Defense While Suffering From A Ruptured Pec During Super Bowl LVI
Published 02/17/2022, 3:43 PM EST

Follow Us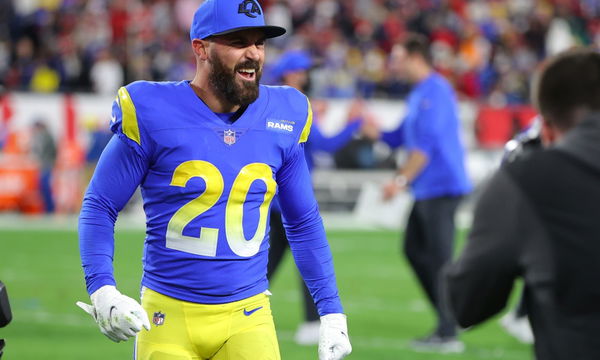 Los Angeles Rams safety Eric Weddle was back only to achieve one thing, and that was to win Super Bowl LVI. Weddle was a late addition to the Rams roster, and he has been a rock in their defense despite suffering from a ruptured pec in two places.
He has been a presence on the defensive side of the ball and has played an important role on his return since 2019 retirement. The player came back hunting for another opportunity to cap his 13-year career with the Vince Lombardi Trophy.
ADVERTISEMENT
Article continues below this ad
Weddle made a name for himself with the San Diego Chargers before he played for the Rams. He spent just a single season with the Rams after calling time at the end of the 2019 season. But injuries piled up within the ranks, and Weddle was called up as an insurance of a veteran to fill the positional need. Despite being off the field for almost 3 years, Weddle has been a superstar addition to their defense.
Many NFL fans saw his return as an attempt at ring chasing in the twilight of his NFL career. But, the reports of him playing more than 3 quarters with an injury and putting in a shift should silence all the haters.
He was a veteran leader on the field, anchoring their defensive line and leading the team in tackles during the NFL playoffs.
Eric Weddle: The right man at the right moment
The Rams' safety and his sacrifice and hunger for winning football games resonated within the entire roster. The 6-time Pro Bowler, though, has called time on his career after the end of their Super Bowl LVI run. Weddle achieved what he came to do with LA, and the locals have to applaud the organization and their decision to rope him back into the mix.
ADVERTISEMENT
Article continues below this ad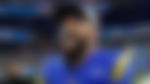 He got thrown into the deep end, and his first game was the WildCard round against the Arizona Cardinals. He had 19 snaps of action in that game that ended up with LA winning the game.
The next outing was the Divisional Round game against the Tampa Bay Buccaneers with a significant increase to 60 snaps in a huge victory. The NFC Championship game saw him playing in all 50 snaps and had 9 tackles and a tackle for loss.
ADVERTISEMENT
Article continues below this ad
During Super Bowl LVI, Weddle was once again influential for his team and led them well on the defensive side of the ball. He recorded 4 tackles in the game, but it was his leadership that kept the Rams in the game when they trailed.
Watch This Story: Wife of Rams WR Van Jefferson Goes Into Labor Midway Through Super Bowl Win