Richard Sherman Absolutely Does Not Want Matthew Stafford in Hall of Fame: "No All Decade Team. No All Pro. No MVP. 1 Pro Bowl. Not Even MVP of the SB. Never Considered the Best in Any Year He Played"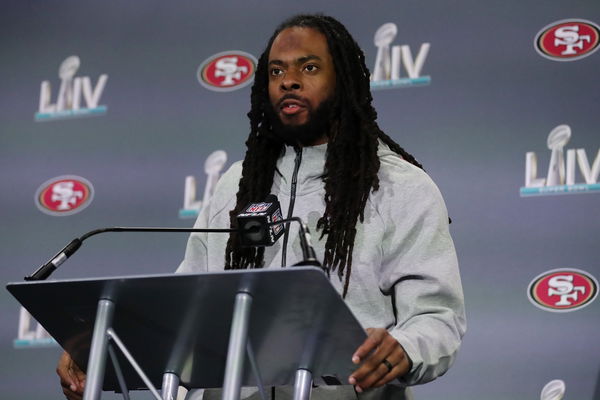 Stafford, who made his debut in 2009, finally won his first Super Bowl 13 years later in 2022. As a result, everyone is giving flowers to Matthew Stafford; however, Richard Sherman is not so enthusiastic.
In the wake of the Rams Super victory, former Seahawk Michael Robinson stated on "Good Morning Football" that Matthew Stafford is destined to become an NFL Hall of Famer. Robinson said, "Yes he's a gold jacket, ABSOLUTELY. The ultimate team goal, to win a Lombardi, Matthew Stafford actually has, and he was a huge part of winning this Super Bowl."
ADVERTISEMENT
Article continues below this ad
Matthew Stafford HOF resume is unimpressive to Sherman
Robinson's former Seahawks teammate Richard Sherman vehemently disagreed with his statement. Sherman tweeted that the Hall of Fame's bar would have to be significantly lowered to accommodate Stafford. Aside from his only Pro Bowl appearance, Stafford doesn't have an MVP, an SB MVP, an All-Pro, or an All-decade team selection. Additionally, he mentioned Stafford wasn't considered one of the best players in any of his seasons in the league. Evidently, Stafford's Hall of Fame credentials doesn't impress Sherman.
I'm gonna talk about it on the podcast but the HOF bar is incredibly low now. Like a participation trophy. No all decade team. No All pro. No MVP. 1 Pro bowl. Not even MVP of the SB. Never considered the best in any year he played. At least M. Ryan has an MVP https://t.co/TDQn8sJZfO

— Richard Sherman (@RSherman_25) February 14, 2022
Later on, Will Brinson of CBS Sports joined the crowd to show his support for Stafford's induction into the HOF. He tweeted Stafford has a strong chance to make it to the HOF if he plays for three or four more seasons. Additionally, he emphasized it would not affect his candidacy even if he didn't receive an All-Pro selection during those years. As a result, Sherman objected to Will's tweet, and they argued back and forth constantly.
ADVERTISEMENT
Article continues below this ad
The Stafford case for the HOF
Matthew Stafford, who won Super Bowl LVI on Sunday, currently ranks 12th among NFL career passing yards leaders. Additionally, he has ahead of plenty of Hall of Famers on the leaderboard. However, he has only been selected for one Pro Bowl and has never been selected to the All-Pro team. Moreover, he has never won an MVP or a Super Bowl MVP.
ADVERTISEMENT
Article continues below this ad
Nonetheless, he played a critical role in the Rams' Super Bowl victory and has some impressive statistics to his name. Therefore, the outcome will be interesting to see. For now, Sherman has expressed his reservations about Stafford being inducted into the Hall of Fame. However, do you believe Stafford should be inducted into the HOF? Let us know in the comments below.
Watch This Story: Every Touchdown from Super Bowl LVI: Cincinnati Bengals vs Los Angeles Rams