Rob Gronkowski Looking to Run it Back After Signing New Deal With the Tampa Bay Buccaneers
Published 03/22/2021, 4:02 PM EDT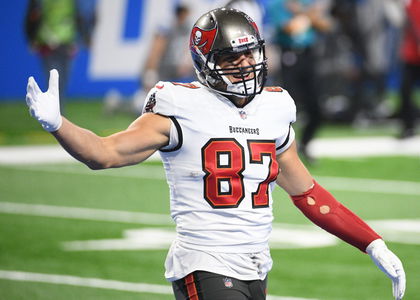 ---
---
The Tampa Bay Buccaneers are looking to run it back for 2021. Holding on to several key players with new deals for the upcoming season, the Buccaneers finally tied down another important piece of the puzzle. That being tight end Rob Gronkowski.
ADVERTISEMENT
Article continues below this ad
The former New England Patriots player who joined the franchise along with Tom Brady ahead of the 2020 season, signed a 1-year contract extension. The new contract comes with a base salary of $8 million, with up to $2 million in incentives.
Gronkowski, who was effectively a free agent from March 17th, was quickly snapped up by the Buccaneers following reported interest from other franchises.
ADVERTISEMENT
Article continues below this ad
And in his first statement following the new contract, Gronkowski laid out his and the team's goals for the upcoming season.
Rob Gronkowski looking to elevate the offense
Talking to Scott Smith of the team's official website, Gronkowski said that he feels the team can definitely do better in offense.
"I definitely do think we can be better on the offensive side of the ball," he said.
Explaining why he feels so, the tight end feels having another offseason under the belt will help.
"With so many players coming back, another offseason under our belt, another training camp, a full season under our belt, that we can definitely continue where we left off," he added.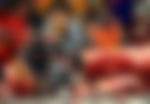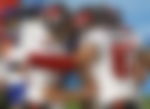 Talking about playing a full season for the first time since 2011, Gronkowski said he was happy to prove that he's still got what it takes.
"It was a great feeling… It was something I wanted to prove to myself that I could do," he said.
"I can play a full season and a full postseason, and at a high level, too… I feel like I could play another full season right now, if it started," he added.
ADVERTISEMENT
Article continues below this ad
When further asked about the teams that were looking to sign him in free agency, Gronkowski said while there were a couple of offers, his heart was set on returning with the Buccaneers.
"There were a couple of other teams also… But overall I wanted to be back with the Buccaneers organization. The setup here is unbelievable."
With Rob Gronkowski back with the Bucs, can the team run it back for 2021?
ADVERTISEMENT
Article continues below this ad