Rob Gronkowski Once Stepped Up With The Laker Girls In An NBA-NFL Crossover Unlike Any Other
Published 06/17/2022, 3:53 PM EDT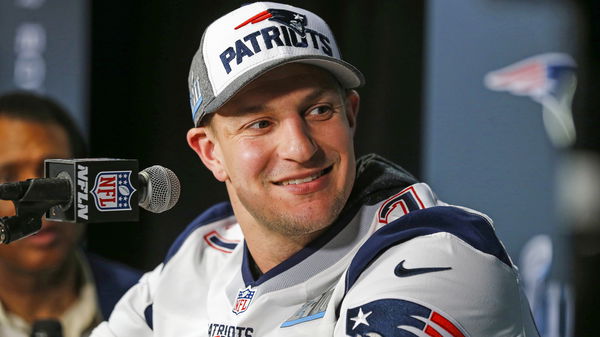 Former New England Patriots tight end Rob Gronkowski was experiencing a unique situation in 2019 when he made an unexpected appearance. Gronk was shaking a leg with the world-famous Laker Girls during a 2019 Los Angeles Lakers basketball game against the Oklahoma City Thunder. While it was the most unexpected appearance from the then-Patriots TE, who was then undecided on returning to New England for another NFL campaign.
The then-3-time Super Bowl champion joined late-night show host James Corden and tennis star Venus Williams on the court. It seems Gronk was reveling at the moment, and his dance showed his stunning athleticism and dancing prowess.
ADVERTISEMENT
Article continues below this ad
He pulled off some high kicks, hip thrusts, and some other amazing moves to the delight of the Lakers' home crowd.
It was an evening that fans and his girlfriend Camille Kostek will probably never forget for years to come. After seeing his performance she was in disbelief while stating, "Still deciding if I'm a proud girlfriend over this. Nevertheless …. this is an EPIC #NeverNotDancing moment I am proud to witness by Mr. James and Robert James I LOVE YOU BOTH."
Rob Gronkowski is a full-fledged party animal in his free time
A self-professed party animal, Gronk has the moves both on and off the football field to enthrall his fans. Despite his lack of experience against his Laker Girl counterparts, Gronk brought with his energy on the court. It seems all his partying off the field perfectly set him up to unleash himself and his moves for fans.
ADVERTISEMENT
Article continues below this ad
While he eventually returned to play football, it was not in the Patriots' colors and not during the 2019 campaign.
Gronk returned to football in 2020 with the Tampa Bay Buccaneers to play with best friend and former Patriots QB Tom Brady.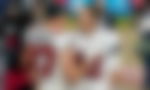 ADVERTISEMENT
Article continues below this ad
The dynamic duo of Brady and Gronk won yet another Super Bowl, earning the latter his 4th Super Bowl championship. While the 2021 season was full of injuries for the franchise, they find themselves in the same situation with Gronk as the Patriots. They will look to bring him in for possibly Brady and his final NFL campaign in 2022.
Watch This Story: Rob Gronkowski, Tom Brady, And Odell Beckham Jr's Involvement In Crypto Becomes Butt Of Jokes From The Onion