Rob Gronkowski Reveals Why He Is Exalted As The 'Gronk'
Published 04/09/2022, 11:30 AM EDT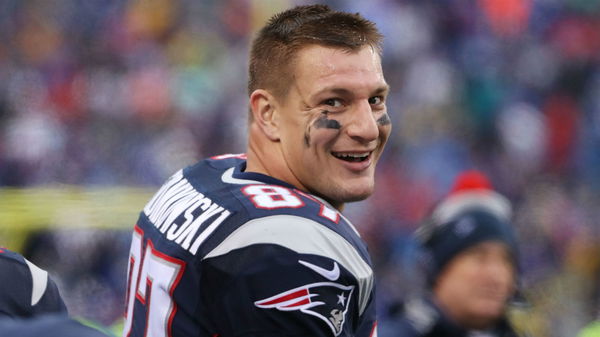 Rob Gronkowski has been one of the most dominant players in the tight end position ever since he entered the NFL. Nicknamed 'Gronk' by fans and his teammates, he remains an unstoppable force on the football field with QB Tom Brady. The 4 Super Bowl championships are lively evidence of their successful partnership and winning mentality.
But Gronk did reveal to fans an interesting tale about the origins of his nickname. During his appearance on 'Jimmy Kimmel Live', he does reveal how weird it was when everyone calls him by that name.
ADVERTISEMENT
Article continues below this ad
Gronk states, "I was never called Gronk my whole life until I got to the NFL, and boom since my rookie year and since I stepped into the Patriots building everyone starts calling me Gronk."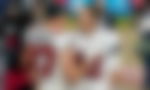 He reveals that it was his older brother, Dan Gronkowski, who initially did have the nickname 'Gronk'. But he adds that while he did feel awkward being called by his brother's name, he did make peace with it. The nickname has since been done justice by the Patriots and Buccaneers TE with impressive performances.
The 'Gronk' title belongs for eternity to Rob Gronkowski
Gronk prides on his nickname, and host Jimmy Kimmel does make fun of the name. He describes it as caveman-esque in nature and intimidating of their physical stature and strength as a family. While the analogy might be unique to some of his fans, Gronk has shown his physical feats of strength on more than one occasion.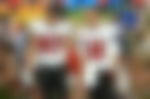 Apart from his physical capabilities, Gronk is famous within the Buccaneers organization for his contagious positive energy. He even earned a second nickname of 'Gronkitis' because of the infectious nature of his demeanor within the changing rooms.
ADVERTISEMENT
Article continues below this ad
Even Buccaneers fans seem to be having a case of 'Gronkitis' as they hype up whenever he steps on the football field.
Leftwich also revealed the Bucs' nickname for Gronk — "Gronkitis," because his positive energy is so infectious. "I don't think he's ever had a bad day."

— Ben Volin (@BenVolin) January 6, 2021
ADVERTISEMENT
Article continues below this ad
He did play in 12 games for the Buccaneers last season. He did end up recording 55 receptions for 802 receiving yards and 6 TDs. While he still possesses the same abilities as years past, Gronk can still be the difference-maker in the NFL.
Watch This Story: Tom Brady Cites Multiple Challenges To Overcome Ahead of 2022 Season Including His Health, Fitness, and Injuries