Rob Gronkowski Turns Up Twitter After Playfully Reacting to Comparison With Retirement Returnee Tom Brady
Published 06/23/2022, 5:25 AM EDT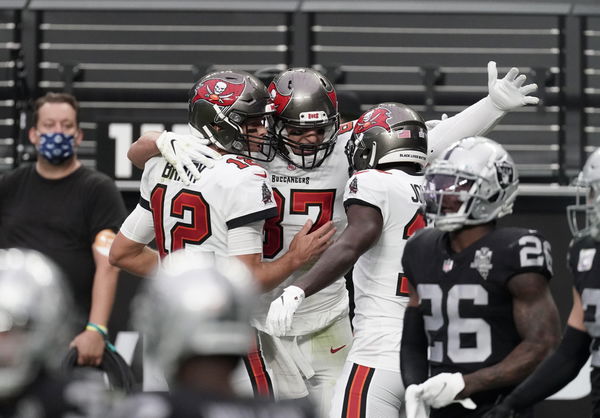 Rob Gronkowski has officially hit the tail button for withdrawal. The four-time Super Bowl-winning tight end is heading towards his retirement home after announcing his decision over social media. However, one of his replies on Twitter sparks the netizens' interest, and it features Tom Brady.
In the past, TE Rob Gronkowski has drawn the retirement shift before in his career. However, not too long after, Tom Brady lured him back into action after TB12's jump toward the Tampa Bay Buccaneers. The Brady-Gronk pair also won a Super Bowl in their initial season with the franchise.
ADVERTISEMENT
Article continues below this ad
In recent times, Rob Gronkowski has pulled up a retirement joke at the expense of Tom Brady. It all began when NFL reporter Tom Pelissero shared a retirement scoreboard, with Gronk scoring two and TB12 with one. But Rob, being the funny guy, leaves a playful reaction to Pelissero's tweet. It references Brady's competitive nature and will not lose any competition.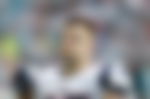 TE Gronkowski tweets, "Be careful, Tom doesn't like to lose [Rolling on the Floor Laughing Emoji]."
To give some context, Gronkowski has pursued retirement before. It is his second time doing so. Tom Brady did the same upon announcing his retirement after his 2021 campaign ended. But in just 41 days, he pulled up a Gronkowski-style comeback to be back for some waltzing on the turf. Although Brady's contract with the Buccaneers has just a year left. Either he could attract an extension, sign with a different franchise, or turn himself into an analyst.
Twitter users still expect Rob Gronkowski to come back
It has been a day since Rob Gronkowski announced his retirement. But the fans are still upset and do not want to believe that it has formally taken place.
A user is heart-wrenched over Gronk's retirement and says TB12 won't win another Lombardi without him. But another user believes Tom stands a chance without Gronk this year.
Dude he can win superbowl without him the year he had without him he had 0 receivers that could catch at least this time he has quite a few great receivers in Mike Evans and Chris Godwin

— Scratchez (@_Scratchez_) June 22, 2022
A user drops every possibility which could happen in the upcoming days.
Sooooo, are we really in retirement? Or we are going to expect a comeback before the season. My emotions will not be able to handle it.

— Priscilla Semaan (@Lichqueen21) June 22, 2022
A user points down a dramatic yet spectacular possibility for Gronk, and another user expects it to happen.
You know it, I know it, he knows it… see you in January, Gronk. 👍

— Dave Gettleman (@danrymas) June 22, 2022
Moreover, a user expects to see him back during the playoffs.
Enjoy your time off will see you at the end of the season to get ready for the playoffs!

— Joe Kaleta (@TheeeBigJoe) June 22, 2022
A user questions Gronkowski, asking which team the Bucs tried trading him.
Who were they trying to trade you to this time???

— The Golf Course Nut (@golfcoursenut_) June 22, 2022
ADVERTISEMENT
Article continues below this ad
A user questions if he will reclaim the WWE's 24/7 Championship, which he won during WrestleMania 36.
Does this mean you're going to reclaim your 24/7 Championship Belt Rob?

— Jeff Williamson (@iamjeffw) June 23, 2022
ADVERTISEMENT
Article continues below this ad
Twitter users have wild speculations, but mostly they want him to come back for another year. Will it happen? It is subject to witness.
Watch This Story: From Antoine Winfield Jr to Patrick Surtain II; Recalling NFL Stars With Legendary Fathers Who Played in the League on Account of Father's Day