Rob Gronkowski vs Travis Kelce; Who Is the NFL's Best Tight End?
Published 12/18/2021, 5:39 AM EST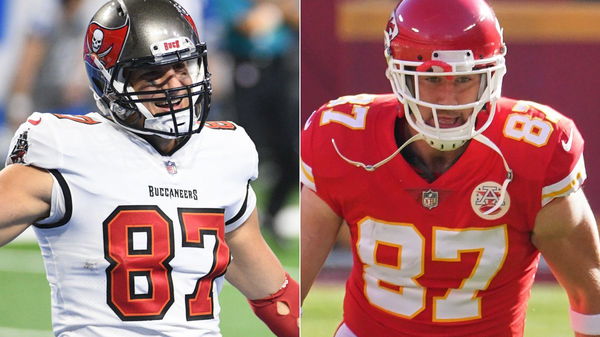 ---
---
Currently, it seems that the role of tight ends has peaked in the NFL. When talking about great players right now, it is for sure that among the top 10, at least two of them could be tight ends. The league currently is dominated by some very effective tight ends like Rob Gronkowski, Darren Waller, and George Kittle, to name a few.
ADVERTISEMENT
Article continues below this ad
Although watching the Thursday night game between Kansas City Chiefs and Los Angeles Chargers, one can say that Travis Kelce is definitely in that class of TEs. But is he good enough to give the four-time Super Bowl winner Rob Gronkowski a tough competition? It appears to be so.
ADVERTISEMENT
Article continues below this ad
The monumental resume of Rob Gronkowski
Rob Gronkowski is having a phenomenal season on a per-game basis, despite missing out on action a few times. But his name most certainly pops up on the scoreboard every time he appears for Tampa Bay Buccaneers. The 32-year-old this season has made 38 receptions in 56 targets covering 498 yards with six touchdowns and an average of 13.1 yards per carry.
Talking about his achievements: the veteran tight end has a pretty impressive resume. He has won the Super Bowl four times, was named in the First team All-Pro four times, and in the Pro Bowl five times. The tight end has had a historic partnership with the GOAT Tom Brady throughout his career, and he still continues with it.
On the contrary, the Kansas City Chiefs star Travis Kelce has proven his worth on multiple occasions despite being without the phenomenal quarterback at all times in his career. Kelce, who currently ranks No. 5, should be higher, considering he is the only person to finish the season as a No. 1 tight end in the past five years.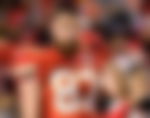 The game-changer Travis Kelce
The Chiefs' tight end is putting up unimaginable numbers this season and is definitely a game-changer, which he proved during his game against the Chargers. Kelce, this season, has made 83 receptions on 122 targets covering 1,066 yards with seven touchdowns and an average of 12.8 yards per carry.
ADVERTISEMENT
Article continues below this ad
Kelce has a history of generating headlines. Kelce eclipsed Gronkowski for the most receiving yards by a tight end in NFL history earlier this season. He was also the first player at the position to exceed 8,000 yards receiving. Last season, he became the sixth player in NFL history to have at least 1,000 receiving yards for five straight seasons.
Kelce has brought a new perception to the tight end role
He is, however, altering the perception of the position and the kind of players that play it. The majority of individuals put Rob Gronkowski, Tony Gonzalez, Shannon Sharpe, and Antonio Gates in the same category as them. Kelce, on the other hand, is quicker and more nimble than any of those players.
ADVERTISEMENT
Article continues below this ad
Travis Kelce is a six-time Pro Bowler, three-time first-team All-Pro, and Super Bowl winner. He's only in his eighth season, but he's already sixth all-time in the tight end receiving yards with nearly 8,900. He's only a few yards behind Gronkowski and has only played half as many games as the rest of the players on this list.