Rob Gronkowski's Mom Ended Patrick Mahomes' Career After Sharing Hilarious Meme Following Kansas City Chiefs' Destruction At The Hands of Tom Brady, Gronk and Tampa Bay Buccaneers
Published 06/22/2022, 12:00 PM EDT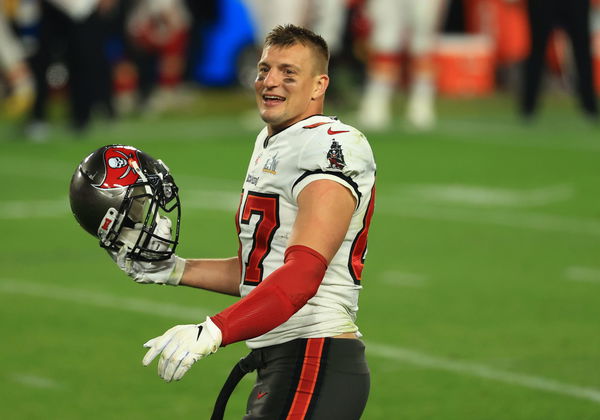 The legendary NFL players like former Tampa Bay Buccaneers tight end Rob Gronkowski all have important figures in their lives, who instill a champion mentality. During Gronk's entire NFL career, Diane Walters, his mother, was the driving force behind his return in 2020. However, Gronk revealed during an interview talking about Patrick Mahomes and Tom Brady how his mom sent them a funny meme.
During the interview, while talking about the special nature of the 2020 Super Bowl, Gronk states, "It's funny because my mom sent me a little meme. It was Tom with um…Mahomes on the back of his shoulders like Mahomes is a baby in a Kansas City uniform. And it was like 'take your son to work' day on February 7th. It was just really classic because Mahomes could really be Tom's son because Tom's such a legend and has been doing it for so long. Their age difference is so huge where he could be a son so when my mom sent me that meme I told her it was a pretty good meme."
ADVERTISEMENT
Article continues below this ad
Gronk adds that he admires Mahomes and Brady and their contributions to the game over the years. While Mahomes was coming off a Super Bowl-winning campaign in Super Bowl LIV, Brady was looking to prove himself with his new team, the Buccaneers. It was a significant game for both NFL QBs as they aimed towards enhancing their legacies.
Rob Gronkowski has a special bond with Momma Gronk
Many Buccaneers fans cheered their team on during Super Bowl LV while watching their team dismantle the reigning Super Bowl champions, the Kansas City Chiefs. But the job could have been more challenging without Gronk, as the former Patriots TE was a free agent in 2020. But his decision to unretire was influenced by the support given by Momma Gronk.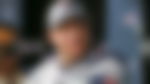 ADVERTISEMENT
Article continues below this ad
Though it allowed Gronk to play with best friend and legendary quarterback Tom Brady for another season, it brought him closer to his mother.
The situation also was helpful for his mother, as she was able to see him in action in every home game at the Raymond James Stadium.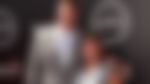 ADVERTISEMENT
Article continues below this ad
Despite his time off from the game, Gronk captured his Super Bowl ring in a welcoming environment with familiar faces. As the 2022 NFL campaign approaches, Gronk's decision to retire will see him return closer to home. It will be a happy Gronkowski household for Momma Gronk, who gets to see her son every day.
Watch This Story: From Antoine Winfield Jr to Patrick Surtain II; Recalling NFL Stars With Legendary Fathers Who Played in the League on Account of Father's Day