RUMORS: Matt Nagy Out as Chicago Bears Coach After the Thanksgiving Game?
Published 11/24/2021, 6:18 AM EST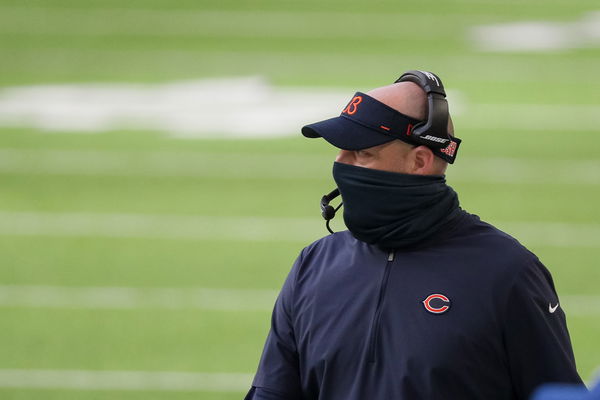 After the loss at Soldier Field on week 11 against the Baltimore Ravens, fans have had enough of Matt Nagy. This was the fifth game in a row that the Chicago Bears have lost under the coaching of Nagy. It was also the second game where the Bears lost in the dying minutes after being in the lead. The star quarterback of the Ravens, Lamar Jackson, did not even play. He was down with a sickness. Yet the Bears could not get one over Baltimore. 
ADVERTISEMENT
Article continues below this ad
Fans are done with Matt Nagy
ADVERTISEMENT
Article continues below this ad
The last time the Chicago Bears tasted success was back in week 4 after they defeated the Detroit Lions. It all went downhill from there. The Sunday match against the Ravens had little action until the third quarter. There were only 6 points on the board. They belong to the Ravens who scored two field goals until that point. Andy Dalton put the Bears on the driver's seat after scoring a touchdown. Things looked up for the Bears as they sacked the Ravens' quarterback over six times.
The fourth quarter is where the game changed. Ravens scored another field goal to get in front, but a touchdown gave Bears the lead again. Chicago almost won the game with 9-13. But Baltimore had other plans. Devonta Freeman sealed the deal for the Ravens in the dying minutes of the game with a touchdown. 
ADVERTISEMENT
Article continues below this ad
The frustrated fans started chanting "Fire Nagy!" at the top of their lungs. "I just understand in the end we all care a lot," Said Nagy when asked about the booing from the fans. "I think everyone is competitive and wants the Bears to win, and that's exactly what we want."  
Nagy out of Chicago?
ADVERTISEMENT
Article continues below this ad
Maybe the voices of the Chicago fans were heard. It is reported that the Thanksgiving game against the Lions will be Nagy's last as the coach of the Bears. If this happens, it would be the first time in the club's history that they've fired a coach in the middle of the season. Nagy's record with the Bears currently is 31-27. Maybe he could go out with a win on Thanksgiving.