RUMORS: NFL Legend Peyton Manning is Secretly Coaching Current NFL Quarterback
Published 11/21/2021, 5:01 AM EST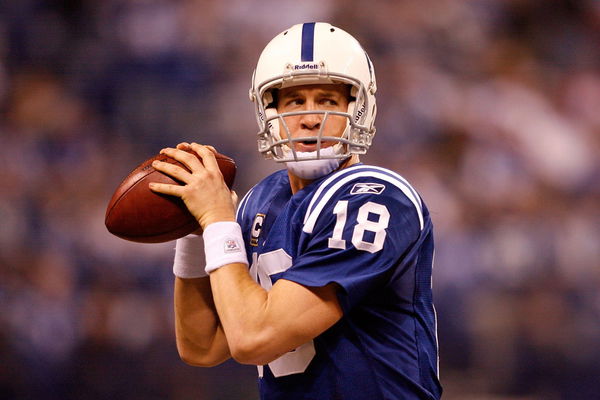 ---
---
After defeating the Denver Broncos last Sunday, Philadelphia Eagles quarterback Jalen Hurts is doing everything he can to improve his game. Hurts even locked away his phone, which was blowing up after the loss against the Broncos. But now, there are talks of Hurts receiving training from one of the best, Peyton Manning.
ADVERTISEMENT
Article continues below this ad
Peyton Manning reaches out to Jalen Hurts
ADVERTISEMENT
Article continues below this ad
After the game where Hurts contributed 233 of 386 yards for the Eagles, he was chilling on his phone. The win against Denver was not the only thing people were talking about. Rumors were going around that the Philadelphia Eagles were going to replace Hurts. He was struggling with these rumors before, too. Jalen's family has stood in his support and by his side. 
Hurts kept scrolling through the feeds, but the thing that caught his eye was a text. The message was from "Mr. Archie" (Archie Manning). Manning was congratulating Hurts on his performance and contributing a pair of touchdown passes for the win. This made Hurts happy, and he replied with a "thank-you." 
Hurts and the Mannings go way back. It is not uncommon for him to hear from a member of the family. 
The history between Hurts and the Mannings
"I've always had a good relationship with the Mannings, including, Mr. Archie, Eli, and Peyton since the camp I went to when I was going into my sophomore year," said Hurts, "There are little things that I can learn from and pick their brain. I value that and the relationship I have with the Mannings."
Jalen Hurts attended a camp in Louisiana in 2017. The name of the camp was Manning Passing Academy. The Mannings ran the camp. This is where he first met Peyton and Archie Manning. Hurts was one of the 42 college QBs who were the camp counselors for over 1200 NFL hopefuls. Archie immediately saw something different in Jalen Hurts. 
ADVERTISEMENT
Article continues below this ad
"Jalen was kind of a special kid to me," said Manning. "There was something really neat about him. He's got such a good personality, and everybody liked him." Archie Manning has followed the career of Jalen Hurts closely since his college years. Hurts has learned a lot from his relationship with the Manning family. Every time he needed any advice on the game, he contacted Archie Manning or the NFL legend Peyton Manning. 
Jalen Hurts says he's maintained a relationship with Peyton Manning since going to the Manning QB camp in high school. Manning sends him cut-ups that illustrate important details of playing the position, he said. pic.twitter.com/9EWlTxJATZ

— Les Bowen (@LesBowen) November 17, 2021
ADVERTISEMENT
Article continues below this ad
The Mannings continue to have Jalen Hurts' back, and they are always there when he needs them. But are they still secretly coaching him? It would not be a surprise. Hurts is a shining prospect of their camp, the Manning Passing Academy, and he is a rising star for the Philadelphia Eagles.