RUMOURS: NFL Coach Replacing Brian Kelly as Head Coach of Notre Dame
Published 11/30/2021, 7:13 AM EST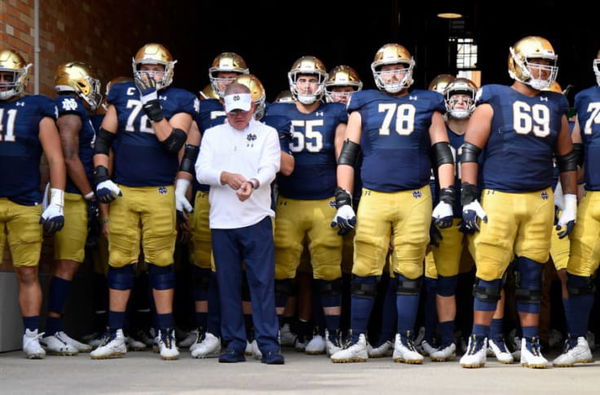 ---
---
Some new drama arises in the college football news. The rumor is that NFL franchise, Arizona Cardinals' head coach Kliff Kingsbury, will replace Brian Kelly. Notre Dame Fighting Irish football team has targeted Kingsbury to become the next head coach.
ADVERTISEMENT
Article continues below this ad
Kliff Kingsbury leaving the NFL to coach college team?
ADVERTISEMENT
Article continues below this ad
It is always exciting to see when a former NFL coach goes back to coach a college football team. To coach a brilliant team such as Notre Dame is a different type of achievement for a coach. Kliff Kingsbury has one year left in his contract as the head coach of the Arizona Cardinals. Many other college teams are showing interest in hiring Kingsbury as well. Oklahoma in particular. They want to hire him to replace their head coach of the Oklahoma Sooners Lincoln Riley. The Sooners are looking for a new coach since Riley will reportedly be leaving to join USC. 
Notre Dame has targeted Cardinals' HC Kliff Kingsbury as one of the potential replacements for Brian Kelly, league sources tell ESPN.

Kingsbury has one year remaining on his contract as there's a drive into deep left field by Castellanos and that'll be a home run.

— Elika Sadeghi (@elikasadeghi) November 30, 2021
Kingsbury and the Cardinals have the best record in the NFL currently with 9-2. It is not a surprise that many teams are interested in hiring him as their new head coach. Currently, Kliff has not been entertaining any rumors. When asked about Oklahoma, he said, "I don't get into those things," Kingsbury adds, My sole focus the last couple weeks has been the Chicago Bears. After watching them on Thanksgiving, it needs to be because they're a really good football team and had a big win, so that's where my focus has been."
Kliff does not want to talk about the rumors right now. "We're in-season. We're 9-2. Just not a topic I want to touch on right now."
Brian Kelly with Notre Dame
Brian Kelly has coached the Notre Dame Fighting Irish football team for 11 seasons. His record with them is 113-40. The Fighting Irish have 11 wins this season. They are a serious contender for college playoffs. The team defeated Stanford 45-14 last Saturday, and the CFP selection committee currently ranked them at number 6.  
ADVERTISEMENT
Article continues below this ad
Brian Kelly will leave Notre Dame next season as LSU has given him a generous offer. Louisiana State University has offered a 10-year contract worth over $100 million. Kelly's annual salary will be around $15 million. 
Just now Brian Kelly messaged Notre Dame's roster in Team Works that "I will be leaving Notre Dame."

The plan is for Kelly to meet with the team tomorrow at 7 a.m.

Here is the full message pic.twitter.com/sqAl2txZIy

— Pete Sampson (@PeteSampson_) November 30, 2021
ADVERTISEMENT
Article continues below this ad
College football has always been huge in America and for the NFL. It will be interesting to see if Kliff Kingsbury really goes to Notre Dame and replaces Brian Kelly. We shall find out more about this topic in the coming weeks.