Russell Wilson Calls KC Chiefs, LV Raiders 'Trash' in Hilarious Schedule Video Bloopers Also Featuring Peyton Manning
Published 05/22/2022, 5:31 PM EDT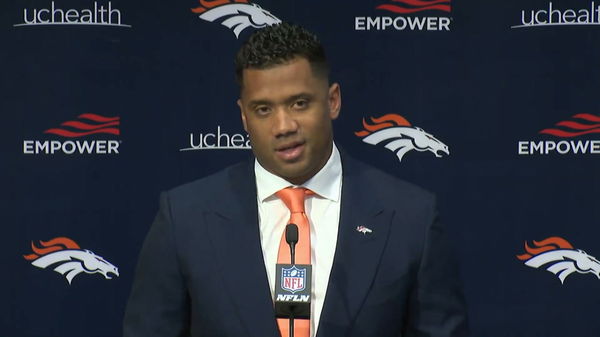 The Denver Broncos organization might have the best social media team in the entire league with their work on the Russell Wilson, and Peyton Manning 2022 schedule released video. But it appears they were holding back some more footage from the shoot. They recently put out the behind-the-scenes blooper reel. While it is a short video, it gave fans an insight into how the entire concept became a reality.
Within the 2 minutes long clip, the Broncos fans get a glimpse of their new QB Wilson cracking up during shooting. Surprisingly, the blooper reel provided the fans to discover that NFL Insider Adam Schefter was part of the video. The ESPN regular was playing the role of a delivery boy at the Broncos headquarters in disguise.
ADVERTISEMENT
Article continues below this ad
Apart from that, former Broncos legend John Elway is also seen practicing on his Lyft-like scooter in between takes. In the mind of some fans, this portion of the clip brought back memories. It was about an Instagram moment from some years back of Elway riding a scooter in Miami.
The video's blooper reel also reveals the funny side of Wilson. It was the competitive side of Wilson as he pokes fun at his divisional rival franchises, KC Chiefs and LA Raiders.
Russell Wilson brings back the excitement in the Mile High City
While the blooper reel was all fun and games, everyone in the video knows how important the 2022 season will be for them. The addition of the former Seahawks QB will be an exciting time for the Broncos fans. But with excitement, expectations are going to be sky high from the former Super Bowl champion to deliver results soon.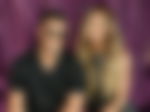 ADVERTISEMENT
Article continues below this ad
Last season, Wilson and the Broncos had their struggles separately for different reasons. While Wilson was injured during the season and missed games, the Broncos finished at the bottom of the AFC West. They finished with a 7-10 record in a hotly contested division.
The recruitment of Wilson, a proven winner on the team will uplift the franchise and their fanbase from their long slumber.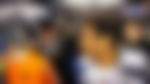 ADVERTISEMENT
Article continues below this ad
With the new season inching ever closer, Wilson will look to build on the electrifying energy of the Denver fans. The Broncos fans will hope that Wilson still possesses the ability to win football games as he did years prior in Seattle.
Watch This Story: Colin Kaepernick's Greatest Achievement Might Be This Award Associated With Muhammad Ali and Handed to Him By Beyonce