Russell Wilson Tops List for Most Sacked Quarterbacks in the NFL Since 2017
Published 02/15/2021, 2:50 AM EST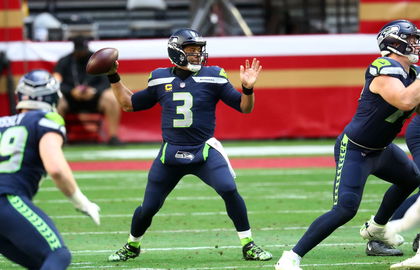 ---
---
Russell Wilson is one of the premier quarterbacks in the NFL. The former Super Bowl winner has shown his quality on multiple occasions in the NFL.
ADVERTISEMENT
Article continues below this ad
However, despite Wilson's excellence, the Seahawks haven't come close to the Super Bowl since their loss in 2015. And one statistic for Russell Wilson shows why.
Wilson currently leads the NFL as the most sacked quarterback since 2017. Wilson tops the list with 189 sacks over 4 seasons. The 32-year-old is followed by Deshaun Watson (174), Matt Ryan, (155), Kirk Cousins (148), and Carson Wentz (146). Over the past 4 years, Wilson averages close to 3 sacks a game with 2.95.
ADVERTISEMENT
Article continues below this ad
Most sacked QBs since 2017

Russell Wilson – 189
Deshaun Watson – 174
Matt Ryan – 155
Kirk Cousins – 148
Carson Wentz – 146

— NFL Stats (@NFL_Stats) February 11, 2021
The aforementioned statistic is a pretty significant indictment of the Seahawks' offensive line. Wilson came out recently and implied that his offensive unit was not providing him with enough protection or coverage during possession plays.
Not only does this lead to the opposition getting the ball from the Seahawks, but Wilson gets sacked and hurt more often than not.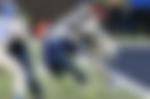 Russell Wilson unhappy with the Seahawks
Wilson has stated on many occasions that his ambition is to play into his late 30s and early 40s. However, if he continues to be in the line of fire with his offensive unit not offering the adequate amount of coverage and protection that he needs, his plans could be jeopardized.
Every hit that players take on the football field takes time off their careers, and the numbers show Wilson has taken far too many.
Wilson's comments from earlier this week will sound alarm bells within the Seahawks organization. They will worry that Wilson is on the verge of being alienated.
ADVERTISEMENT
Article continues below this ad
The Seahawks must make moves to provide better protectors for Wilson in the offensive unit, or they run the risk of Wilson departing for greener (and safer) pastures.
The NFL, now more than ever, gives star players the power to dictate their future. And if the Seahawks don't give Wilson enough reassurance that they can put him and the team in a position to win, Wilson could decide to call time on his career there.
Despite him professing his love for the franchise on numerous occasions, the numbers suggest that there is trouble in paradise.
ADVERTISEMENT
Article continues below this ad