Ryan Fitzpatrick QB 1, but Not Immune to Competition Says WFT Head Coach Ron Rivera
Published 04/04/2021, 10:35 AM EDT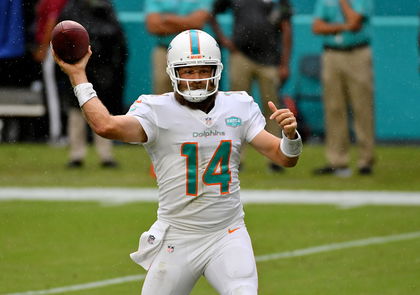 ---
---
The Washington Football Team recently signed veteran QB Ryan Fitzpatrick in free agency. For the journeyman QB, the WFT will be the ninth NFL franchise he'll be padding up for.
ADVERTISEMENT
Article continues below this ad
And Head Coach Ron Rivera will hope that Fitzpatrick's experience will help his side's offense, which paled in comparison to their stellar defense. But even with his experience, Ryan Fitzpatrick is not assured of a starting role in Washington.
Talking about how things have changed a year on, Rivera said that he has learned from his mistakes and is looking to rectify them next season. One of them is the lack of competition at the QB position last season.
ADVERTISEMENT
Article continues below this ad
Ryan Fitzpatrick won't be having it easy
During a recent press conference, Rivera talked about how the QB room lacked competition to spur the side on.
"Last year one of the mistakes I made obviously was I didn't have the true competition," Rivera said.
"This time I know who we have as the starter, but he's going to go in and compete with everybody else. I want to play the guy that's going to give us the best opportunity to win, the best opportunity to develop and grow as a football team," he added.
Sharing his excitement about the signing of Fitzpatrick, Rivera said the QB will help the side develop further.
"A savvy veteran, he's had a lot of success, he's worked with a lot of other quarterbacks, a lot of young quarterbacks, he's been in a lot of different system.
Also when you look at his numbers analytically, he's actually improved in his play the last couple years. So there's a lot of positive things about having this type of guy around. I'm pretty excited, I really am," he said.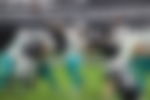 Fitzpatrick has done wonders in the past. That's how he got the moniker Fitzmagic. His experience has helped several young QBs in the past, including the likes of Tua Tagovailoa in Miami last season.
ADVERTISEMENT
Article continues below this ad
This season, Fitzpatrick will be competing with backup QB Taylor Heinicke. This is the QB who almost helped the WFT upset Super Bowl LV champions Tampa Bay Buccaneers in the Wild Card round last season.
Of the little we've seen of Heinicke so far, do you feel he'll be able to provide adequate competition to Ryan Fitzpatrick in 2021?
ADVERTISEMENT
Article continues below this ad