Saints' Alvin Kamara Hasn't Spent Any of His Earnings From NFL Stint
Published 04/12/2021, 2:12 PM EDT
---
---
Alvin Kamara is one of the most prolific wide receivers in the NFL. The New Orleans Saints star was crucial to the team's success last year, as they reached the 2nd round of the NFL Playoffs.
ADVERTISEMENT
Article continues below this ad
Despite their exit in the Playoffs, the Saints know what they have in Kamara, which is why they signed him to a 5-year, $75 million contract extension at the start of last season. However, Kamara has not been reaping the rewards of that massive contract.
New Orleans Saints wide receiver Alvin Kamara recently addressed his earnings in the NFL. During an interview with Uninterrupted, he was asked what flamboyant or extravagant purchase he made after signing the contract.
ADVERTISEMENT
Article continues below this ad
Kamara gave a surprising response, noting that he has not spent a single dollar of the money he has earned in the NFL, even from the massive new contract he signed last summer.
He noted, "I ain't spent a dollar of football money. I ain't touched none of it…"I got my signing bonus. And I went and got some wings, and I was like, 'Man, I'm not spending any of this money…I still have not spent $1 of my football money – new money or rookie contract money."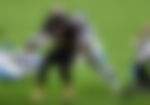 Alvin Kamara being fiscally responsible
It was a shocking admission from Kamara. Several pro-athletes often spent their hard-earned money quite liberally, whether it be on flashy items, or investing it into their future. However, Kamara seems to have a more centered approach to his earnings.
He doesn't want to spend any of the money he has earned, because there are no guarantees in football. Careers can end at any moment, given the contact nature of the sport, so Kamara is choosing to be very careful.
It is admirable to see a player of Kamara's stature being so careful with his earnings. It does set a good example for players entering the league who risk becoming reckless with their money.
ADVERTISEMENT
Article continues below this ad
Most often, because of the young ages of athletes, they aren't responsible with their money because they have never had that much. So Kamara showing that you can play at an elite level but still be judicious will be good for players going forward.
How will Alvin Kamara fare this season with the New Orleans Saints? The franchise will have a lot of work. It is the first year they will play without Drew Brees as the starting quarterback.
ADVERTISEMENT
Article continues below this ad