San Francisco 49ers Announces $1 Million Donation Towards Making Societal Change
Published 05/31/2020, 1:28 PM EDT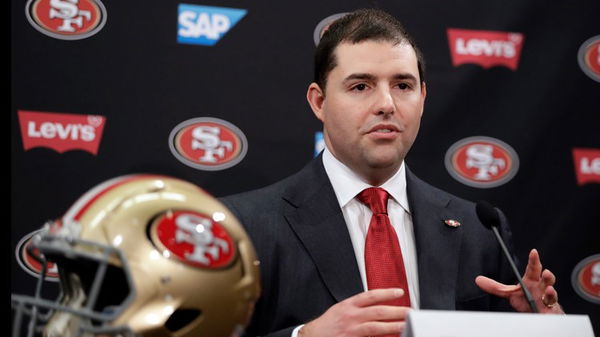 ---
---
In light of the horrific happenings in Minneapolis last week, the San Francisco 49ers have decided to commit to making societal change.
ADVERTISEMENT
Article continues below this ad
The 49ers' CEO, Jed York made a statement about the ongoing protests across the nation which resulted from the death of a man at the hands of police officers. The man, George Floyd was being arrested for an attempted forgery when he was subjected to police brutality. The police officer, Derek Chauvin, kneeled on Floyd's neck while pinning him to the ground. Passersby were terrified to see the officer not stop doing something so violent despite the victim's cries for help.
Bringing About Change
ADVERTISEMENT
Article continues below this ad
49ers are donating $1 million to help support the Players Coaltion and other organizations trying to help make societal change. https://t.co/h1lPsJjNLA

— Adam Schefter (@AdamSchefter) May 31, 2020
Jed York, in his statement, recognized how people are hurting and emotions are raw. He called the acts committed heinous and urged everyone to have courage and compassion to come together and acknowledge the problem – systematic discrimination pervasive throughout America. To be able to tackle this issue, the 49ers have committed to support the legislative priorities of the Players Coalition. The team has also decided to donate a million dollars to local and national organizations that are creating change.
The Coalition is the main group that negotiated with the NFL on behalf of players who protested during the national anthem to shine a light on police brutality and systemic oppression. Colin Kaepernick who hasn't played in the NFL since 2017, started this moment in a preseason game in 2016. Incidentally, Kaepernick was the quarterback for the San Francisco 49ers till the end of the 2016 season. He has been a vocal civil rights activist.
Floyd's Death Stirred Up San Francisco 49ers
When civility leads to death, revolting is the only logical reaction.

The cries for peace will rain down, and when they do, they will land on deaf ears, because your violence has brought this resistance.

We have the right to fight back!

Rest in Power George Floyd

— Colin Kaepernick (@Kaepernick7) May 28, 2020
ADVERTISEMENT
Article continues below this ad
Many sports personalities, such as  Kaepernick, LeBron James, Dwyane Wade, and even Steve Kerr have spoken up about the injustice caused to the black community and other oppressed minorities across the nation. Former NBA star turned analyst Jalen Rose delivered an impassioned speech on TV as he called on all Americans to unite to combat racism.
The time to take constructive measures towards ending discrimination of any kind whatsoever has arrived.
ADVERTISEMENT
Article continues below this ad