"Being a Captain I Want to Be There for My Team"– George Kittle Ridicules Theory of Him Willing to Holdout
Published 07/09/2020, 12:54 PM EDT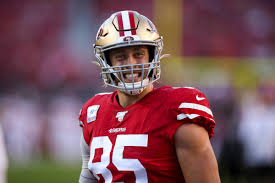 ---
---
The San Francisco 49ers are looking forward to initiating their training camp later this month. Meanwhile, their running back Raheem Mostert is reportedly looking for a trade, rather actively.
ADVERTISEMENT
Article continues below this ad
The unproductive contract discussions between him and the Niners may be the catalyst behind Mostert's choice. Now, the question that's flying around the NFL community is whether the 49ers skipper
George Kittle
too will follow suit?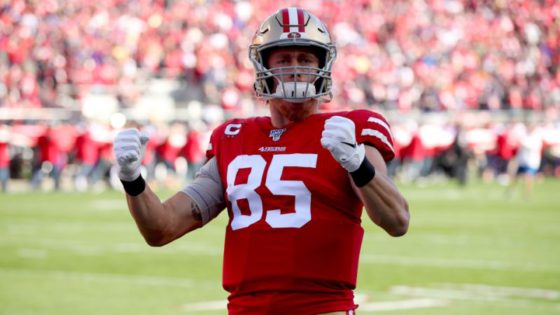 ADVERTISEMENT
Article continues below this ad
What does the future look like for George Kittle?
As we speak, Kittle has a season left with the Niners, according to the four-year contract that he signed back in 2017. San Francisco 49ers skipper George Kittle earned $645,000 last year.
Courtesy to the NFL's new proven-performer initiative, the all-pro tight end's salary jumped this season to $2.133 million.
However, even that spectacular escalation doesn't take him any closer to the league's highest-paid tight end, Cleveland Browns' Austin Hooper.
Hooper's seasonal earnings are $10.5 million. It is expected that the Niners' leader will soon become the NFL's highest-paid athlete in his position, overtaking Hooper by a massive margin, when he signs a new contract next season.
But the question that remains is whether the San Francisco 49ers are serious about retaining him beyond 2021. Well, that's a question only the future can answer. 
However, Kittle has come out with an interesting statement before the hammer drops on his future at Levi's Stadium.
What would Kittle's choice be?
On Wednesday, Kittle appeared in a conference call for Gatorade's 'Beat the Heat' program. A journalist of NBC Sports asked him about his preference for a holdout.
In reply, the 26-year old said, "
Being a captain, I want to be there for my team and I need to show the right leadership skills
."
Kittle refused to answer any other questions related to his contract.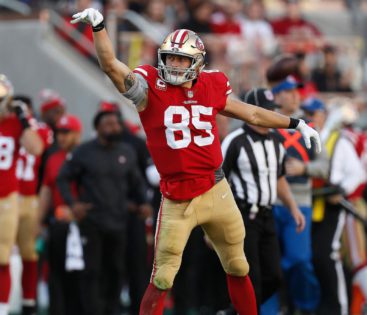 Performance is on George's side
San Francisco 49ers have all the reasons to retain Kittle after his consistently stupefying performances throughout the last three seasons.
Kittle was the 49ers' fifth-round draft pick in 2017. Since joining the San Francisco franchise, he received yards as compared to any other tight end in the league. Interestingly, George did consecutive 1000-yard seasons.
In the process, he became the only tight end in San Francisco 49ers' history to produce 1,000-yard seasons. In 2018, the young man from Iowa set a new record for tight ends in the NFL by receiving 1,377 yards.
In 2019, he became a first-team All-Pro after catching 85 passes, producing 5 touchdowns, and receiving 1,053 yards in 14 games.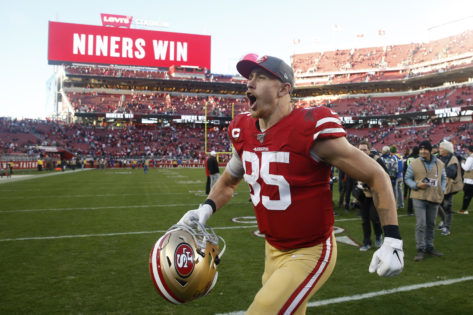 Will George Kittle hold out?
ADVERTISEMENT
Article continues below this ad
The 49ers and George Kittle might opt for a multi-year extension during this offseason. However, none of the parties look as if they have progressed much in this matter.
According to Kittle's contract situation, he can opt to hold out of the camp before it opens on July 28, just in case they couldn't reach an agreement.
However, judging from Kittle's statement, he isn't interested in holding out, at least this season.
The real question is whether his employers are keen on binding him to a new deal.
ADVERTISEMENT
Article continues below this ad
More from EssentiallySports on NFL