49ers CEO Reveals Heartwarming Gesture by George Kittle After Signing a New Contract
Published 06/02/2021, 7:50 AM EDT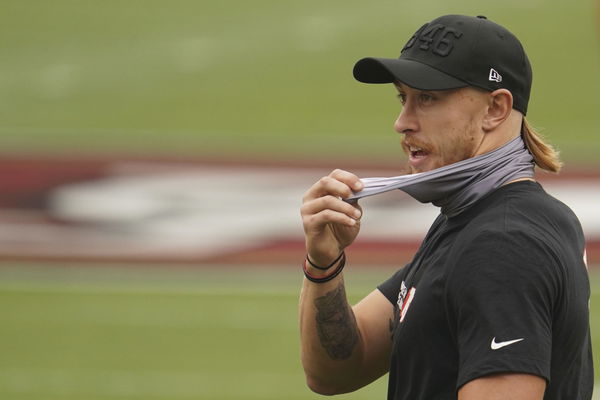 ---
---
The San Francisco 49ers have themselves a potential future Hall of Famer in tight end George Kittle. One of the best in the league, Kittle earned his first All-Pro call-up in 2019 when he helped the Niners reach Super Bowl LIV.
ADVERTISEMENT
Article continues below this ad
While his influence on the side in 2021 was curtailed due to an injury, Kittle remains one of the most prolific tight ends in the NFL. And it's his performances in recent years that saw him bag the big bucks.
Kittle signed a 5-year extension worth up to $75 million in 2020 which should see him remain a Niner through the 2025 NFL season. 
ADVERTISEMENT
Article continues below this ad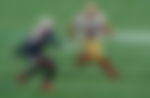 Bagging the most expensive contract for a tight end ever, Kittle didn't let the money get to his head. As humble as ever, San Francisco 49ers CEO Jed York recently revealed a heartwarming gesture by Kittle once he put pen to paper.   
George Kittle has a heart of gold
Appearing on the Rich Eisen Show, York said that Kittle had done something that no player had ever done before. Write a handwritten note to thank him for a new contract.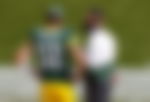 "First person ever to do a handwritten card for me to say thank you for a new contract ever in the NFL. Since 2005, my first year, the first guy ever to do a handwritten card. He handed me a thank you note," York said.
York said that Kittle had earlier lost the note due to moving around the country with his wife. But once he got hold of the note again, he personally hand-delivered it to the 49ers CEO.
"He lost it last year after we had done the deal… He had it in his storage because he moved to Nashville with his wife, right? And he was like, 'Yeah, I found it. And I just wanted to hand-deliver you this card."
ADVERTISEMENT
Article continues below this ad
Reiterating the fact that it was the first time he got such a note describes just how much it meant York as well. 
"It was a beautifully written card. A thank you note. The first time I've had a handwritten note from any player for doing a contract," he said.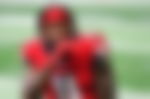 ADVERTISEMENT
Article continues below this ad
With a new contract locking Kittle in for the long run, the tight end will be keen to pick up from where he left off last season. Niners fans too will be hoping for the same as they await their first Super Bowl in over a quarter of a century.