San Francisco 49ers HC Kyle Shanahan Explains Why He Isn't Playing His Top Draft Picks
Published 11/10/2021, 8:09 AM EST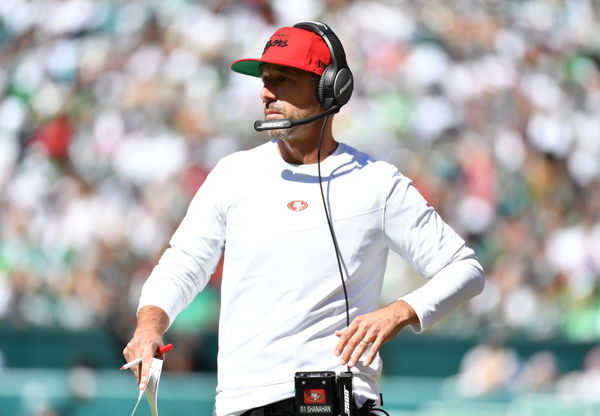 ---
---
One of the biggest complaints that the San Francisco 49ers fans have this season is why Kyle Shanahan is not playing his NFL draft picks. So far this season, the Niners have received close to zero production from their first, second, third, and fifth-round picks. Well, to answer this question, the head coach appeared in the '49ers in Five Podcast'.
ADVERTISEMENT
Article continues below this ad
The head coach came up with a very comprehensive answer, as if he wanted to be asked this question. Shanahan mentioned each of his draft picks with the reasons on why he is benching them out.
ADVERTISEMENT
Article continues below this ad
Kyle Shanahan on benching his draft picks
"We had a feeling with our quarterback," Shanahan said. "We knew we drafted a guard in the second round thinking he'd have a chance to push [Daniel] Brunskill and Laken [Tomlinson]. Our biggest thing with all those positions, whether it was running back, third, corner in the third and the fifth, and guard in the second, those are all positions we were very thin at. Now, we had guys there that were starters. We weren't drafted a hole to replace the starter, whether it was at guard or whether it was that corner or whether it was that back."
"I felt good with Raheem Mostert and Jeff Wilson as our starting backs, but we knew we needed some depth. I felt very good about [Jason] Verrett, [Emmanuel] Moseley and K'Waun [Williams] as our starting three corners. But we also knew we needed some depth behind them for injury and for going into next year, especially with the one-year deal those guys are on. And we had to start getting some youth in here."
"[Aaron] Banks, we thought had the best chance to compete to maybe win one of those jobs over the off season, but he didn't get that. He wasn't there in training camp, started getting his work in Week 1 and has been behind the eight ball. I think he's had a couple good weeks here. His best two weeks lately and he's starting to push him a little bit, but when that time is right for him and our team, we'll make that move."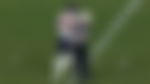 "When you look at the running back, yeah, Trey Sermon. We didn't bring him here to come and start at running back. We needed to add some depths and unfortunately, we lost our two starting running backs within two plays of the first play of the year. And after that, I wouldn't say it's anything against Trey Sermon, but we felt better with Elijah [Mitchell]. Elijah had a strong camp, ended up beating Trey out and that's why he got that role. Trey got some opportunities when other people got injured. But right now, Jeff Wilson's back healthy and Elijah is healthy and those are our two starting backs right now with Trey being third and unfortunately, Hasty's been our third down back and done the stuff in the pass game. So, he's kind of been the odd man out with that, which is tough on him. It doesn't mean that we don't believe in him. He's just not ahead of those other guys right now in terms of running the ball on first and second down."
"And when you look at our corners, the third-round pick, the fifth-round pick, we weren't bringing any of them here to, we felt, start. We were hoping that they could add some depth and be guys who could play on our team and possibly do that next year. Unfortunately, having some injuries that we had early, we needed them earlier than we thought we would. And unfortunately, they weren't fully ready for it. And yeah, I wish they were. But the third-round pick and the fifth-round pick, they weren't, and that's why we've gone with veterans instead of them. Trying to get them some time to get to where they need to be."
San Francisco 49ers should start giving the rookies some playing time
ADVERTISEMENT
Article continues below this ad
The Niners haven't received much of a contribution from their rookies. Since according to head coach Kyle Shanahan, the San Francisco 49ers did not select Lance, running back Trey Sermon, guard Aaron Banks or cornerback Ambry Thomas with 2021 in mind. But the sixth-round pick Elijah Mitchell has blended well with the squad after filling in for the injury of Raheem Mostert.
ADVERTISEMENT
Article continues below this ad
However, with a record of 3-5 sitting disappointingly at the last position of NFC West, clearly, their starting lineup hasn't produced the results that they should have. Shanahan should consider giving his draft picks more playing time.