"It's Always Tough"- Kyle Shanahan on Demoting Nick Mullens to Third-Choice Quarterback
Published 10/11/2020, 4:55 PM EDT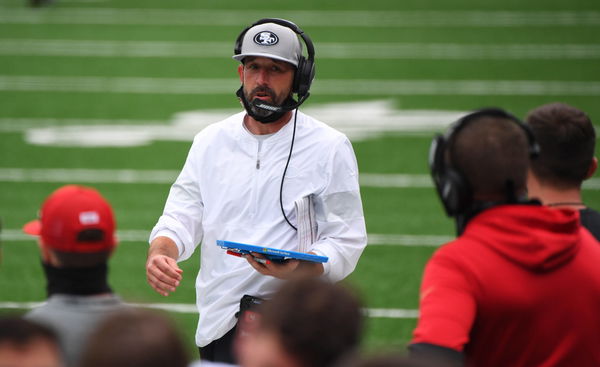 ---
---
The Kyle Shanahan-led San Francisco 49ers are gearing up for a crucial tie against Miami Dolphins in Week Five. The Red and Gold have been dealing with an injury crisis since Week Two.
ADVERTISEMENT
Article continues below this ad
They are currently on a 2-2 record after suffering losses to Kyler Murray's Arizona Cardinals and the Carson Wentz-led Philadelphia Eagles this season.
Last week's outing against the Eagles was a disappointing outing for the 49ers. They were playing without their first-choice starter, Jimmy Garoppolo, who was dealing with an ankle injury. Nick Mullens started against the Eagles but failed to make an impact.
ADVERTISEMENT
Article continues below this ad
Mullens threw a pick-six in the fourth quarter which was intercepted by Alex Singleton and returned for TD which ultimately cost the Niners the game and cost the backup QB a spot in the starting line-up.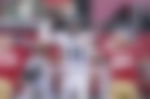 Kyle Shanahan talks about Nick Mullens' dismal outing against the Eagles
C.J. Beathard is the 49ers' new No. 2 QB, replacing Nick Mullens

— David Lombardi (@LombardiHimself) October 9, 2020
San Francisco 49ers Head Coach, Kyle Shanahan, broke the news to quarterback Nick Mullens that he is now third in the pecking order behind Jimmy Garoppolo and CJ Beathard.
Shanahan admitted that it was tough to have that conversation with Mullens; however, he added that the seasoned NFL shot-caller is behaving like a true professional.
"Yeah, it's always tough to deliver to any of those guys, but I think Nick understands the situation, understands the business. It sounds dreadful and the end of the world probably to a normal person and anyone who cares about Nick, but I try to put it in perspective with Nick.
"He didn't have his best game. C.J. has been there before, Jimmy has been there before. Nick just had a rough game and I think he played better than it looked.
"So, Nick understands. C.J. has been through that since that Oakland game and C.J. came in and played well and I know Nick's happy for C.J. because they're close and respect each other.
"Nick's not going to make too big a deal of it, but next time he ever gets this opportunity, he'll be ready," Shanahan told the team's official website.
Jerick McKinnon draws praise on San Francisco 49ers head coach
Highly rated running back Jerick 'Jet' McKinnon has enjoyed a fine return from injury. Almost immediately after signing a four-year contract with San Francisco in 2018, McKinnon tore his ACL during training. He re-aggravated that same injury last year but has been terrific for the 49ers since the start of their 2020 campaign.
Here's what coach Shanahan had to say about the 28-year old running back.
"Everyone has different styles. Sometimes guys who hit it extremely fast, it's great when the lane's there because you gash them right away.
"But when it's not there, they run into the backs of everybody, and if they had a little bit more patience and stuff, they could have got eight yards instead of negative two yards. So, you've got to take the pluses and minuses with each guy's style.
https://www.instagram.com/p/CE5lIxchtlL/
ADVERTISEMENT
Article continues below this ad
"And there's a couple that he's left out there that he knows that he maybe could have hit a little bit more, but by no means has it been anything that- everyone's got a little bit different style and sometimes it helps them.
"Sometimes it hurts them and that's the story for all the guys," Shanahan added.
The 49ers play the Ryan Fitzpatrick-led Miami Dolphins in Week Five. Following that, they host the Los Angeles Rams in Week Six of the ongoing NFL season.
ADVERTISEMENT
Article continues below this ad
Will the 49ers make it back to the Super Bowl this year? Guess we'll just have to wait and watch.