"George Kittle Has Been Our Best" – Kyle Shanahan Raves on About Tight End
Published 10/24/2020, 9:24 PM EDT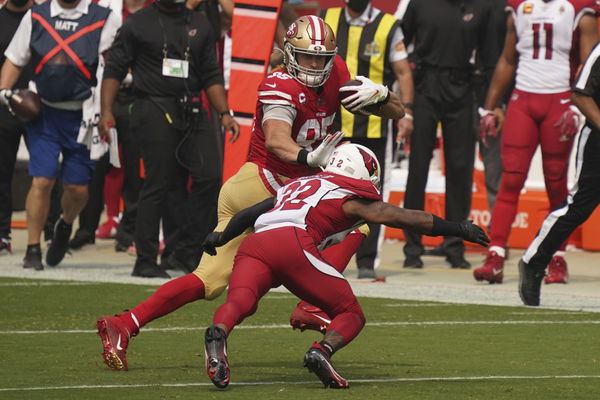 The enigmatic George Kittle has been with the San Francisco 49ers for just three years. Yet he is already considered as one of their greatest tight end of all time. After impressing over the last two seasons, the in-demand player was handed a long-term contract extension in the offseason.
George Kittle signed a five-year, $75 million contract with the 49ers. They also gave him an $18 million signing bonus. This made Kittle the highest-paid tight end to ever play in the NFL.
The record-breaking TE has repaid the faith shown in him by the 49ers management with some eye-catching displays in the league. Coach Kyle Shanahan could not be more satisfied with his star player.
ADVERTISEMENT
Article continues below this ad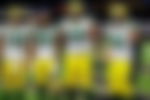 Kyle Shanahan expecting more from tight end George Kittle
George Kittle has been in fine form this season. A knee injury kept him out till Week Four. However, ever since his return, Kittle has been a focal point in attack. The former Iowa College player has 380 receiving yards to his name on 30 receptions, scoring two TDs.
Head coach Kyle Shanahan maintained that Kittle would only get better as the season progressed.
"I think everyone knows George has been our biggest threat, but it's very tough to just take away a tight end when he's run-blocking all the time. Blocking and running routes, it's hard to always put two guys on him because that can mess up some run fits. I think it's a little different. I guess you could say that makes it harder for us because we don't know as much."
"Hopefully, we get a feel in the game. But I promise if we get a feel, he's going to change it. So you just keep dialing it up and hope you can get it right more often than not," Shanahan told NBC Sports.
Shanahan comments on New England Patriots' illusion tactics
San Francisco 49ers boss Kyle Shanahan is in an unusual position at the moment. His side is dealing with a massive injury exodus with players such as DE Nick Bosa and RB Raheem Mostert both out with long-term injuries.
In addition to that, the 49ers face Bill Belichick's New England Patriots on Sunday. It definitely won't be an easy win by any means. Shanahan is very well aware of the 'elusive' offensive tactics employed by Bill Belichick and Josh McDaniels.
ADVERTISEMENT
Article continues below this ad
He said, "I call it an 'illusion of complexity' because it looks like a mess."
"And sometimes, it's like, 'Wait, I already counted him.' It's like there are 15 guys out there. And [the ball is snapped] and it settles down, and it's like, 'All right, I see it now,' " Shanahan told Greg Papa of the '49er Game Plan'.
ADVERTISEMENT
Article continues below this ad
Following the game against the Patriots, the 49ers face two tough games against the Seattle Seahawks and the Green Bay Packers. The likes of Jimmy Garoppolo, George Kittle, and other 49ers stars need to step up in order to improve their 3-3 record.