San Francisco 49ers Sign Josh Rosen Amid QB Injury Crisis
Published 12/24/2020, 12:14 PM EST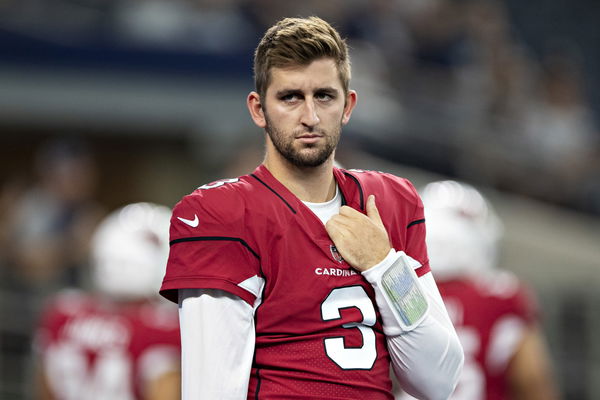 Josh Rosen is back. Well, sort of. The San Francisco 49ers signed Rosen as the backup for 3rd-string quarterback C. J. Beathard, who is expected to start against the Arizona Cardinals.
ADVERTISEMENT
Article continues below this ad
The same Cardinals that drafted Rosen back in 2018 as their 10th overall pick. As a bittersweet reunion between the two parties looms in the distance, Rosen will hope to leave his mark with the limited time he's got.
Quarterback crisis prompts hurried signing
ADVERTISEMENT
Article continues below this ad
The San Francisco 49ers have endured wretched luck with injuries this season. But the injury bug seems to have hit the 49ers quarterback camp the worst.
With both starting quarterback Jimmy Garoppolo and back up Nick Mullens out with injuries, the 49ers have only two healthy quarterbacks, including Rosen, at their disposal.
With Garoppolo still nursing an ankle injury and Mullens dealing with an injured elbow, third-stringer Beathard is expected to start on Sunday.
Thus, the decision to sign Rosen comes as a no-brainer. As per ESPN's Adam Schefter, the 49ers signed Rosen from the Buccaneers practice squad to see out the rest of the campaign as the side's back up QB.
49ers are signing QB Josh Rosen off the Buccaneers practice squad on to SF's active roster, per @FieldYates and me.

— Adam Schefter (@AdamSchefter) December 22, 2020
With a shot at the Playoffs now a mathematical impossibility, the 49ers have some room to experiment. Last season's Super Bowl finalists have failed to replicate the form that almost saw them lift the Lombardi trophy for a record-equaling 6th time.
The interesting bit is that Mullens and Beathard are both set to be free agents come 2021. This gives Rosen a shot at booking that backup spot if he can impress coach Kyle Shanahan.
A second chance for Josh Rosen
Rosen arrived at Arizona amid much fanfare. The Cardinals were glad to have snapped up the quarterback from UCLA. And soon many touted the young QB to carry the franchise to great heights.
However, things did not go according to plan. Rosen went 3-10 in his rookie year with the Cardinals and ended the season with more interceptions than touchdowns.
While questions lingered about Rosen's future, the Cardinals' decision to draft Kyler Murray with their first overall pick in 2019 sealed his fate.
Rosen, then 22, was suddenly not what the Cardinals needed anymore. Traded to Miami for the 2019 season, Rosen struggled and failed to gain any sort of momentum.
ADVERTISEMENT
Article continues below this ad
In 2020, Rosen was soon found to be out of favor again. After failing to land a suitable trade, the Dolphins released Rosen before the start of the new season.
This time, Rosen was snapped up by the Buccaneers for their practice squad. And now with the 49ers, Rosen will pad up for the 3rd franchise in as many years.
For Rosen, 23, age is not a factor. He has the skillset and years ahead of him to become a starting QB for an NFL franchise. But what Rosen may be running out of are opportunities.
ADVERTISEMENT
Article continues below this ad
The two weeks left this season are all Rosen has to impress the 49ers management to warrant him a contract for 2021. If all goes well, Rosen could thrive in the capacity of a backup to Garoppolo for 2021.
And with the uncertainty surrounding Garoppolo's future as well, who knows, Josh Rosen's shot at redeeming himself might not be that far away.