Scathing Prediction About Ezekiel Elliott Could Change the Fortunes of Dallas Cowboys
Published 07/04/2022, 11:00 AM EDT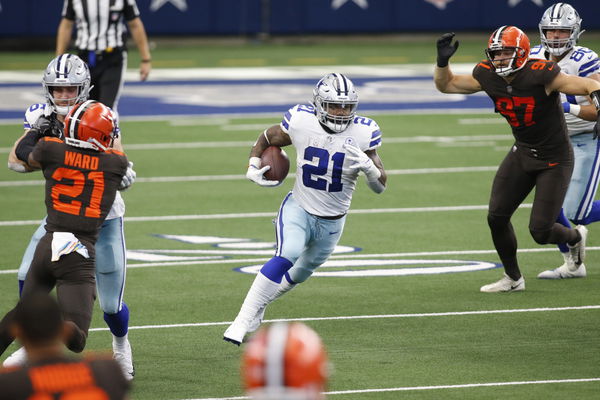 Ezekiel Elliott is one of the most talented running backs to ever lace up a pair of boots in the NFL. For the Dallas Cowboys, he has been a crucial part of the offense since his arrival. Jerry Jones went all-in on the RB, and it paid off. However, analysts from NBC Sports have made a prediction that shows this could be the last time he plays for the Cowboys.
Mike Florio and Charean Williams of Pro Football Talk concur that if Cowboys running back Ezekiel Elliott doesn't step up his game, his moment in Dallas will end after the 2022 football season. That is a rather big claim, but the analysts have some viable reasons for it.
ADVERTISEMENT
Article continues below this ad
Is Zeke one and done?
Charean Williams says, "He's got no guaranteed money left after this year. $10.9 million salary. Next year is a $16.72 million cap hit. This is going to be his last year in Dallas unless he agrees to a pay cut after the season. He did have that partially torn PCL last year, which I know is limited, and he played through it. He's become a great leader for this team. But as you said, he's not even the best running back on his team.
The three-time Pro Bowler served as the Cowboys' primary ball carrier in 2021, but Tony Pollard, the team's backup RB, has significantly better performance figures. Elliott crossed the 1,000-yard threshold once more after last doing so in 2019. In 2019, he gained 1,357 yards. Although Pollard finished with 719 yards rushing, having 237 more carries than Zeke.
The team gave Ezekiel Elliott the proper offseason treatment. He has prepared himself for a successful season. But Williams is confident that the Cowboys will give him the warning. If he doesn't perform well, they might expel him.
ADVERTISEMENT
Article continues below this ad
Ezekiel Elliott might finally join the Cowboys' RB Legacy
Ezekiel Elliott girds himself for his seventh season this year. He is training for a breakout performance and function like in his previous years. But apart from that, Zeke could be on the verge of joining the legendary Cowboys' elite RB club alongside Emmitt Smith and Tony Dorsett.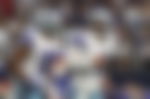 ADVERTISEMENT
Article continues below this ad
According to InsideTheStar, Elliott's 7,386 rushing yards are far behind Smith's 17,162 as a Cowboy and Dorsett's 12,036. Calvin Hill and Don Perkins are behind Zeke, with 6,217 and 5,009 yards. Elliott will eventually put more distance between himself and Perkins while narrowing the gap to Dorsett with just a few more production seasons. But only if the Cowboys do not trade or let go of him.
Watch This Story: Tom Brady Lists 4 Mental Tricks for Achieving Greatness