Seahawks Star DK Metcalf Explains to Hollywood Big-Man Kevin Hart How College Injuries Hurt His Confidence More Than Anything Else
Published 06/23/2022, 6:08 PM EDT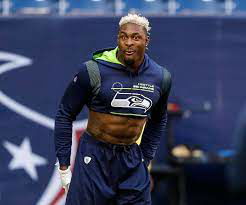 WR DK Metcalf will be entering his fourth season with the Seattle Seahawks, but this time without the star QB Russell Wilson. Metcalf is one of the rising stars and is about to make his name as one of the best wide receivers in the league. 
Recently, the No. 1 WR for the Seahawks was a guest on the Kevin Hart show 'Cold As Balls'. In the show, the famous actor asked some interesting questions about Metcalf and his football journey. 
ADVERTISEMENT
Article continues below this ad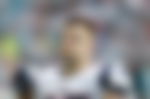 Recalling his early days, Metcalf said he was 5-foot 10-inch when he started playing football in high school. As he entered college, he was about 6 feet 1-inch, and he kept growing until his freshman year ended. Now the Seahawks' star WR stands at 6 feet 4-inch tall. Kevin Hart questions Metcalf about his football career in college days and how his attitude and approach back then. 
Metcalf said, "After leaving high school, going into college, I was still just athletic and just happy to be there. So my freshman year, I broke my foot. In the second game in my third year, I broke my neck. In my last game of college, the scouts would give me like, a third to six round grades undrafted. Yeah. I bet on myself." 
DK Metcalf played college football for Ole Miss from 2016 to 2018. Metcalf says he was very athletic, but his injuries did affect his college career. In his first year, he had a broken foot, and while playing the second game in his third year, he broke his neck.
ADVERTISEMENT
Article continues below this ad
Seattle Seahawks bet on a Jacked but Injured DK Metcalf
While being injured, he took his time to reflect on himself and recovered in just three months instead of six months as suggested by the doctors. After about a month and a half, Metcalf shifted to Arizona to start his football practices. Seattle Seahawks drafted Metcalf in the second round of the 2019 NFL draft pick.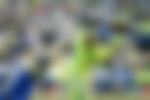 Seattle Seahawks signed a four-year, $4.5 million deal with DK Metcalf in 2019. Currently, Metcalf is entering his fourth and the last season with the Seahawks according to his rookie contract. Metcalf might get a contract extension as his performance is applaudable. In his three seasons with the Seahawks, he has not missed even a single game and is averaging 72 catches for 1,056 yards and 10 touchdowns per season.
ADVERTISEMENT
Article continues below this ad
Watch This Story- Colin Kaepernick Donated His Sneaker Collection in Epic Show Of Kindness to Help the Homeless