DK Metcalf And NFL Legend Shannon Sharpe Get Into a Twitter War; But Who Emerged Victorious?
Published 10/19/2021, 7:45 AM EDT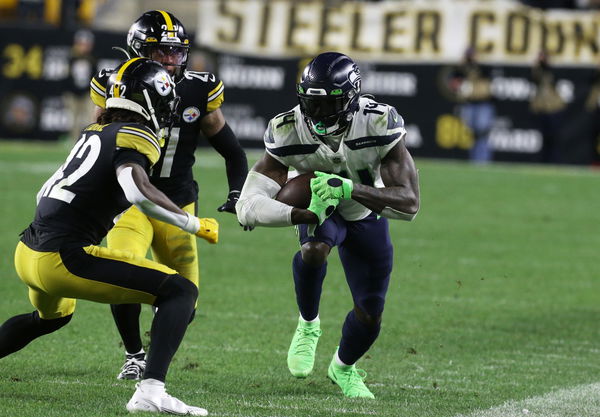 ---
---
DK Metcalf doesn't handle criticism well. After his Sunday night loss against the Pittsburgh Steelers, Metcalf was surrounded with critical remarks on his Twitter handle. Though the criticism being fair, Metcalf replied on a furious note, even to legendary NFL tight end, Shannon Sharpe.
ADVERTISEMENT
Article continues below this ad
The argument escalated as they exchanged tweets back and forth. The legend tried to express his anger in a composed manner, while Metcalf, on the other hand, went full throttle to insult the legend for making critical remarks about him.
ADVERTISEMENT
Article continues below this ad
DK Metcalf can't absorb criticism well
DK Metcalf during his last-minute play against the Steelers made a foolish decision costing the Seahawks too much time, that instead of scoring a game-winning touchdown they had to settle for a field goal leveling up the score. Ultimately, they lost the game in overtime.
The immature decision made by Metcalf in the most deciding moments of the game received widespread criticism. One critique was Ravens and Broncos tight end, Shannon Sharpe. He said, "What was D. K thinking? Why try to play hero in that situation?"
To which the Seahawks receiver mawkishly replied, "Stop questioning me lil boy," concluding with a laugh-out-loud emoticon. Insulting an NFL legend like that is bound to have repercussions. And so a few hours later Shannon replied, but this time on a furious note.
"Nothing to question. That was "DUMB ASS" play and your pride won't let you admit it. "You" can't question anything I've done. Pray your resume will be as complete as mine, PRAY. Enjoy the rest of your day." But the Twitter brawl did not end here.
Metcalf believes he can match Shannon Sharpe
The 23-year-old receiver strikes again with even more insulting and mean remarks. "From the looks of it i can wipe my with yours! Continue to gossip you washed up wanna be." However Metcalf wasn't done here, he replied again a few minutes later. "You know what, you right @ShannonSharpe I do pray my resume can matchup with yours #WorkInProgressBaby"
ADVERTISEMENT
Article continues below this ad
Shannon Sharpe is a three-time Super Bowl winner, four-time first-team ALL-Pro, eight-time Pro Bowler, who also made the NFL 1990s All-Decade team.
ADVERTISEMENT
Article continues below this ad
There is no match between a receiver who has just started his career in the NFL and a legend who has a resume far more impressive than some of the most hyped players in the NFL right now. However, Metcalf does have the power and precision to get to that level. As for Sharpe, he better stay ready to watch Metcalf dazzle.