Seattle Seahawks' DK Metcalf Wants 'Big Brother' Odell Beckham Jr in his Team
Published 11/11/2021, 10:01 AM EST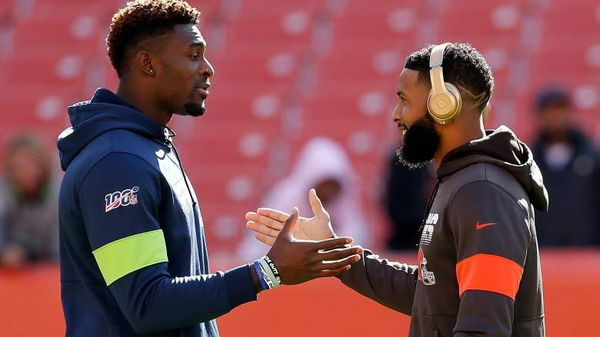 ---
---
Odell Beckham Jr has been the talk of the town over the past few days. Ever since leaving the Cleveland Browns and becoming a free agent, there is one question that has been lingering in everyone's mind. Where next?
ADVERTISEMENT
Article continues below this ad
While the rumor mill has been buzzing with potential teams, fellow NFL players have also aired their thoughts on where the former Browns player should go. Seattle Seahawks WR DK Metcalf is the latest NFL player to give his take on the situation.
ADVERTISEMENT
Article continues below this ad
ICYMI: Odell Beckham Jr is a free agent now
Odell Beckham Jr is no longer a Cleveland Browns player. A league source told Yahoo Sports the Browns had reached a deal to release Beckham. According to the source, the deal has been in the works since Tuesday night. As per the source, the Browns and Beckham's agents were still discussing financial arrangements on Thursday. Once the formalities will get sorted out, it will eventually lead to the Browns placing Beckham on waivers.
Mike Florio of Pro Football Talk also was another source who confirmed Beckham's release. On Thursday night, he claimed the Browns want to release Beckham on Friday after reaching an agreement on a new deal. As per Mike, after "careful thought," the team concluded it "is in the best interest of all parties concerned that Odell no longer plays for the Cleveland Browns,"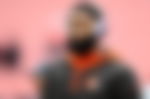 DK Metcalf reveals wish to play with OBJ; spills beans on Seahawks roadmap ahead
Seattle Seahawks Wide Receiver DK Metcalf recently made an interesting revelation. Speaking to Pardon My Take Podcast, Metcalf revealed he would love to have OBJ on his team but warned that NFC is harder than AFC.
ADVERTISEMENT
Article continues below this ad
"Yeah, I would love to have Odell on our team. That's like my big brother," Metcalf replied when quipped about Beckham Jr. "But yeah, the NFC is hard. You gotta come to play every week. But we gonna take it one week at a time, man. I'm not looking forward to the two weeks down the road. I'm looking forward to the Packers and playing that game at Lambeau," he added.
ADVERTISEMENT
Article continues below this ad
Where do you think Odell Beckham Jr will end up? Let us know!