DK Metcalf and Marshon Lattimore Fined Heavily By NFL For Mid-Match Brawl During Monday Night Football
Published 10/31/2021, 6:22 AM EDT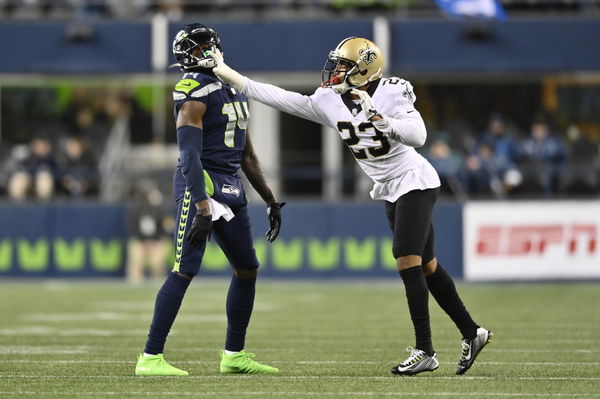 ---
---
Brawls might be the most entertaining point of a football match. While this statement made more sense ten years ago, it still stands solid in principle. During the Monday Night Football clash between Seattle Seahawks and New Orleans Saints, DK Metcalf got into a heated altercation with Marshon Lattimore.
ADVERTISEMENT
Article continues below this ad
DK Metcalf and Marshon Lattimore fined heavily for MNF brawl
ADVERTISEMENT
Article continues below this ad
Marshon Lattimore isn't the biggest guy on most football fields. However, when he stood up to DK Metcalf, it looked like a dolphin trying to intimidate a great white shark. But the surprising thing wasn't Metcalf's reaction, but the sheer resilience of Lattimore, to come back after being shoved by one of the strongest players in the league.
DK Metcalf is not the regular football player. Seahawks' star wide receiver is one of the most imposing figures on the field, and he showcased his brilliance with an 84-yard touchdown converted off a Geno Smith throw. Unfortunately for the Seahawks, they couldn't capitalise on the lead and fell to Jameis Winston's wizardry.
Lattimore and Metcalf just can't keep their hands off of each other 🥴 #MNF

— The Sporting News (@sportingnews) October 26, 2021
New Orleans won the game 13-10, but the fight between Metcalf and Lattimore became a talking point much later. But why is that so? Well, maybe the heavy fine imposed by the NFL came into play. The NFL slapped a $10k fine on Lattimore, for allegedly instigating the brawl. For his contribution, Metcalf shelled out almost $7,000.
How will both players respond to the fine?
ADVERTISEMENT
Article continues below this ad
While the fine will make a significant dent in both players' purses, they wouldn't be too affected by it. Instead, they'd try to move on from the incident and focus on the rest of the season. Metcalf has to focus on bringing Seattle back into the playoff picture. For a team marred with injuries, the Seahawks have great squad depth, but poor performances will ruin their season.
DK Metcalf beats Marshon Lattimore in coverage, and Marcus Williams whiffs on the tackle. 84 yards later, #Seahawks 7-0 #Saints

— Garland Gillen (@garlandgillen) October 26, 2021
ADVERTISEMENT
Article continues below this ad
As for New Orleans Saints, they have a potential Halloween nightmare ahead of them in the form of Tom Brady. With Tampa Bay Buccaneers on the horizon, Jameis Winston and Co have to channel a special power to put them away. The question that remains; do they have what it takes?