NFL Thanksgiving Throwback: When Marshawn Lynch and Richard Sherman Planned to 'Hand Out Turkeys in the Hood'
Published 11/25/2021, 8:24 AM EST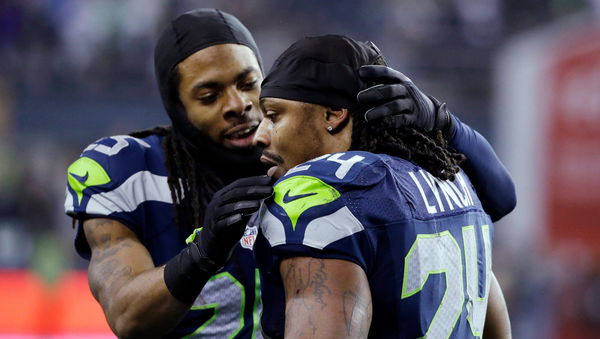 ---
---
The NFL cameras captured former Seattle Seahawks running back Marshawn Lynch on the sidelines while having a conversation with his teammate Richard Sherman. In the video, we could see Sherman and Lynch discussing their plans for Thanksgiving. Lynch's plans were heartwarming. This reminded fans of the reason they love the "Beast Mode".
ADVERTISEMENT
Article continues below this ad
Marshawn Lynch and Richard Sherman light up Thanksgiving
ADVERTISEMENT
Article continues below this ad
When the cornerback Richard Sherman asked Lynch, "What are you doin' for Christmas?" Lynch responded, "Christmas?" Being confused, the running back said, "I gotta get through Thanksgiving first." He added, "I'm going to give out turkeys back in the hood." Impressed with the idea of giving back to the people, Sherman offered to join.
"I'm with ya, you want me to come?" Marshawn gladly asked, "You will? I appreciate it though big dog!" Both the men did a fist bump and Lynch said, "But I'm gonna be in the hood givin out turkeys like Nino Brown baby!" Nino Brown was playing a character in the movie New Jack City. In the movie, Nino Brown plays a big shot, who makes a lot of money. We can see the character of Nino Brown giving food to the people of Harlem on Thanksgiving.
Lynch's goal is to give back and restore his community. He said, "Trying to restore my community!" Even after becoming a successful NFL player, Marshawn Lynch is still attached to his roots. 
Beast Mode goes Feast Mode
ADVERTISEMENT
Article continues below this ad
During Thanksgiving 2020, Marshawn Lynch went to the streets of Hawaii. Lynch went back to the hood and handed out over 200 turkeys to the people. Fans spotted him on the road near the Aloha Stadium in Hawaii. Lynch started distributing the turkeys at 10:30 am. Fam 1st Family Foundation sponsored this giveaway. This foundation belongs to Lynch. Even after retiring from football, the running back has kept himself busy. Lynch could be seen walking down the street and hand-delivering turkeys to people in their cars. 
Chad Owens, a former Hawaiian Football star, also accompanied Lynch on his mission. Both the players fill up the stomachs of a lot of needy people that day. Marshawn Lynch could still be seen giving food to the needy from time to time. Former NFL star regularly holds food drives in his hometown of Oakland, California. Lynch has given out Thanksgiving turkeys there as well. 
ADVERTISEMENT
Article continues below this ad
Marshawn Lynch, despite his success, is still a humble and down-to-earth human being.