Seattle Seahawks Quarterback Russell Wilson Hopes to Play Alongside Antonio Brown
Published 05/26/2020, 5:21 PM EDT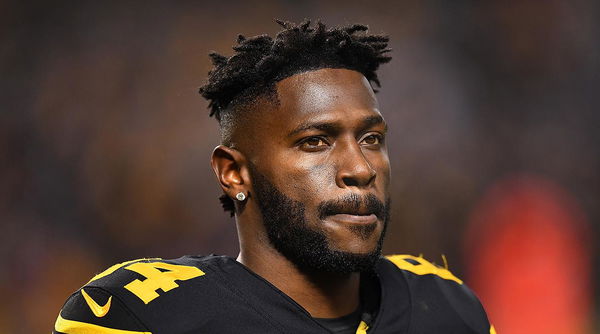 ---
---
Ahead of the 2020 NFL season, it appears that the Seattle Seahawks are shoring up their offense. The franchise made a a few recruitments like Carlos Hyde and Greg Olsen. However, quarterback Russell Wilson recently admitted that he would love to see Antonio Brown sign for the Seahawks.
ADVERTISEMENT
Article continues below this ad
Off-pitch shenanigans aside, Antonio Brown is a highly talented player and his stats speak for themselves. Brown averaged 84 receptions, 1,126 yards and seven touchdowns a year during his 10-year career. He even made it into the Pro Bowl every year and a first-team All-Pro in four seasons.
ADVERTISEMENT
Article continues below this ad
ADVERTISEMENT
Article continues below this ad
Will anyone want to touch Antonio Brown after his off-pitch drama?
Off the field, the 31-year old has a lot of skeletons in the closet, so many would understand if teams are hesitant to take him. In March 2018, the Pittsburgh Steelers traded him to the Oakland Raiders. However, the franchise released the wide receiver, owing to a series of incidents and a clash with general manager Mike Mayock. Brown then tried his luck with the New England Patriots, but they released him after one game after allegations of sexual assault arose.
ADVERTISEMENT
Article continues below this ad
As a result, Brown is an unsigned free agent, which is a small blessing in disguise. This is because the NFL can only take disciplinary action and suspend him if any team decides to sign him. Given that his reputation has dropped like a stone, Russell Wilson may not get his wish to play alongside Antonio Brown.
There is a sliver of hope though, since the Seahawks signed Josh Gordon, who has his own can of worms. The 29-year old has struggled with drug addiction and got suspended indefinitely in December. This came after a fifth violation of the NFL's performance-enhancing drugs and substance abuse policy. Apparently, Gordon applied for reinstatement, and is hoping that the NFL approves of his application.