Russell Wilson's Replacement Geno Smith Claims He 'Feels 21' Ahead Of First Start Since 2017
Published 10/17/2021, 2:34 PM EDT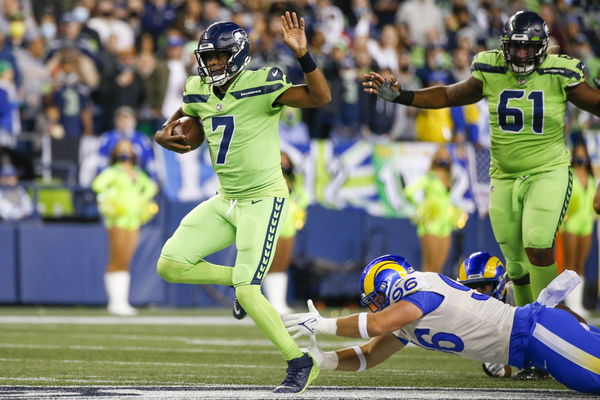 ---
---
Geno Smith is having his moment as he prepares to take on the Pittsburgh Steelers today. His excitement and energy are through the roof as this will be his first regular-season start since 2017.
ADVERTISEMENT
Article continues below this ad
The 31-year-old quarterback replaces Russell Wilson as the starting QB for the first time and hopes to produce the desired result against the Ben Roethlisberger side. This is his time to set the Heinz Field ablaze after he gave a brief stint of his playmaking abilities late against the Rams.
ADVERTISEMENT
Article continues below this ad
Geno Smith starts for the first time since 2017
Smith, though missing out on regular-season actions, hasn't been off the game. He has started the preseason matches for the Seahawks and has been practicing with the team ever since. It's just that he had to prepare himself physically this past week to absorb tough collisions.
With Russell Wilson listed on the injury reserve, Smith has been given full responsibility for the offense for the next three weeks. He has been practicing well enough to deliver on all occasions. When asked about how tired his arm was, "Nah man, I'm fresh," Smith said. "I feel like I'm 21 years old. I'm ready!"
Smith goes against the Steelers
Geno Smith is one heck of a quarterback who takes his job seriously. And so he wants to fully utilise the opportunity fallen on his lap. He wants to prove that he belongs in the league as a starter.
ADVERTISEMENT
Article continues below this ad
"The moment is what it is," Smith said. "We have a Sunday night game in Pittsburgh. It's one night, not the rest of my life. Mostly, it's a game I love to play, a game that I'm passionate about."
"It's one that I prepare for and am ready for whether I get to play or not," he further added. "It's not a chance to showcase anything, that's how I see it. I'm not going to change my stripes. I'm just looking forward to playing football."
ADVERTISEMENT
Article continues below this ad
And with that being said, it looks pretty obvious that Smith means nothing else but business. His matchup against the 2-3 down Steelers will prove his worth in the league, and if he is as capable enough to take over Wilson.