Seattle Seahawks Star QB Russell Wilson Talks About Being 3-7 After First 11 Weeks This Season
Published 11/27/2021, 9:59 AM EST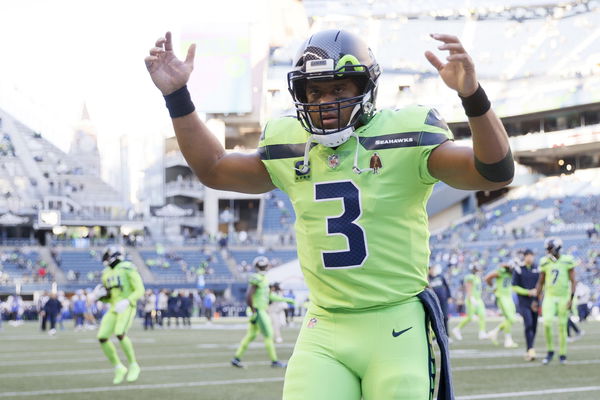 ---
---
Russell Wilson has had a terrible season so far since the Seattle Seahawks have struck rock bottom in the competitive NFC West table. It is as if the hopes for making the playoffs are darkening day by day with every miserable loss of the franchise each week.
ADVERTISEMENT
Article continues below this ad
Their recent disaster in Week 11 against the regional rivals, Arizona Cardinals, ended in a 23-13 score in favor of the Cardinals. And talking about the contribution of the losing quarterback Russell Wilson, his presence made little difference since he completed 14 of 26 pass attempts for 207 yards with no touchdowns.
ADVERTISEMENT
Article continues below this ad
Rich Eisen asks about the adversity faced by the Seattle Seahawks
Wilson, during an interview with Rich Eisen, was asked about his current state of adversity. "Let's talk about your current situation," Rich Eisen said to Wilson. "Sitting there at three and seven. The last time you were four games under 500 was freshmen year of College for you. This has not been the feeling you've been used to, but what is it like to be in your current state right now?"
Judging by the downfall of the Seahawks since the Week 5 matchup against the Rams. Wilson's injury has had an enormous impact on the whole franchise, as they have won just one out of their previous six games. The replacement quarterback Geno Smith has failed to deliver frequently. Even the return game of Wilson against the Packers in week 10 was a colossal flop.
Russell Wilson wanted out of Seattle after a 12-4 season. What's he going to want after this 3-7 abomination comes to an end?

— ProFootballTalk (@ProFootballTalk) November 22, 2021
Russell Wilson feels strongly on a comeback run
"Oh, you know what it is? It's an opportunity." Wilson exclaimed. "You know its adversity and adversity fades if you have the right mentality. If you be neutral with it and understand it, it's a process. And understand it you take every day, you try to find ways to get better and despite all the noise, despite all the mess. You stay focussed on the task and the mission is one game a week, one day at a time, one snap at a time."
ADVERTISEMENT
Article continues below this ad
"We got seven games left and if anybody can come back, we believe we can come back and win all seven. So that's what we feel, that's what we believe, that's our mentality, that's what we've been saying, and that's what we're gonna have to do," he further adds.
ADVERTISEMENT
Article continues below this ad
However, Wilson feels strongly about the comeback of the Seahawks into the playoffs contest. And as the Seahawks visit Washington for their next week's matchup against the Redskins, it is to be seen how much has the quarterback overcome from his past failures.