DK Metcalf Sends Jalen Ramsey To The Cleaners; Seahawks Wide Receiver Puts On Masterclass Performance Despite Loss
Published 10/08/2021, 8:45 AM EDT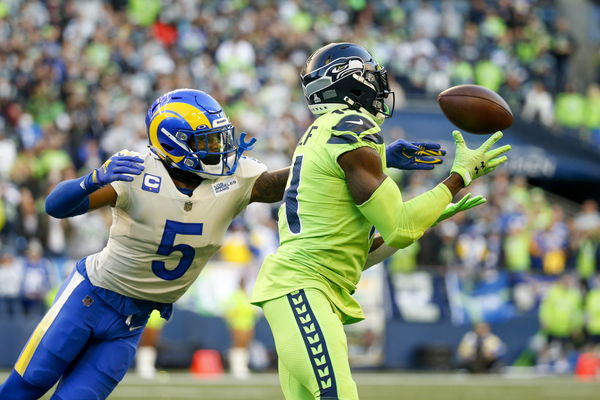 ---
---
How can a man that big and that ripped move that quickly? No, I'm not talking about Brock Lesnar or Gable Steveson or even Dwayne Johnson. I'm talking about DK Metcalf, Seattle Seahawks beast of a wide receiver. Despite being on the losing end, Metcalf put on an elite performance against Los Angeles Rams.
ADVERTISEMENT
Article continues below this ad
DK Metcalf registers superhuman performance against Rams
ADVERTISEMENT
Article continues below this ad
Few wide receivers in the league approach the level of dominance shown by DK Metcalf. One of the strongest pound-for-pound athletes in the NFL, Metcalf, is also freakishly agile and quick as a missile. Seattle Seahawks received an elite second round pick in the form of the former Ole Miss WR.
Against the Rams, Metcalf had the odds stacked against him, in the form of Aaron Donald and Jalen Ramsey. Both superstars looked hungry to take Seattle's top guys out, which included Tyler Lockett and Russell Wilson as well. After a bruising shift, they managed to weaken Lockett and get rid of Wilson entirely.
However, the one person on the field who was the literal embodiment of 'all hits no misses' was DK Metcalf. With five receptions, 98 yards covered an two touchdowns, it is an utter shame Metcalf ended up on the losing side. His harmony with Russell Wilson is second to no one in the league, with only Tom Brady and Rob Gronkowski's connection coming close to it.
For his first touchdown, DK Metcalf caught a peach of a pass from Russell Wilson, but had a long way to go before reaching the end zone. But ahead of him stood Jalen Ramsey. The Rams cornerback charged at Metcalf, but bounced off of him like a tennis ball. Safe to say that Metcalf absolutely cooked the Rams' star last night.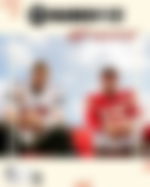 What's next for Metcalf and the Seahawks?
ADVERTISEMENT
Article continues below this ad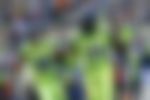 After suffering their second consecutive home defeat, the Seahawks need to shift into next gear and rack up wins. With a supremely talented squad, Seattle should be strong divisional contenders. However, three losses out of five played puts them dead last in the NFC West.
Coming up next for the Seahawks is a tricky trip to Pittsburgh. The Steelers have showcased their resiliency but haven't looked anything more than mediocre. However, after Pittsburgh comes the New Orleans Saints, who are also slowly losing their footing in the NFC Championships.
ADVERTISEMENT
Article continues below this ad
Will the Seahawks turn their NFL season around, or is this how they'll shape up for the rest of the season? Are they heading into the post-season, or is this the end of the road?