Seconds Afterwards, Aaron Rodgers Delights Dolphins Opponent With A Special Gesture That Can Spread A Thousand Smiles
Published 12/26/2022, 8:30 AM EST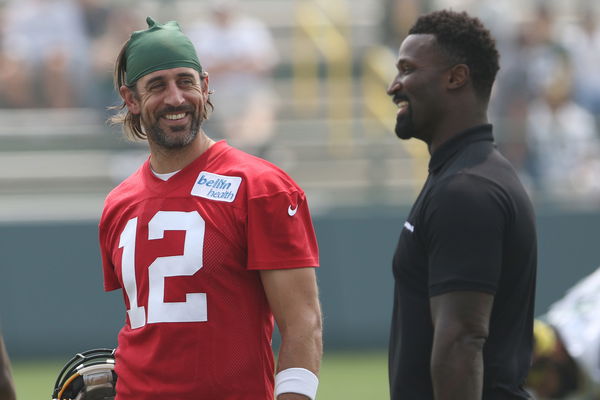 Aaron Rodgers and the Packers did just enough to secure another victory in what has been a dismal season so far. An optimistic fan might have been anticipating the win against the Miami Dolphins, but the team's season has shown otherwise. But, the Cheeseheads had a joyful holiday after their team beat the Dolphins 26-20.
While dealing with injuries, the Packers pushed their way to a comeback victory. The squad also made a few errors that impacted the game. Rodgers in particular may not want to speak about a throw that got picked off in the fourth quarter. But surprisingly, the QB was in good spirits and gave a gift to the rookie who intercepted the ball. So what did Rodgers do?
Despite a fourth-quarter interception, Aaron Rodgers does something unusual and sweet for his opponent
ADVERTISEMENT
Article continues below this ad
While this may not have happened had the Packers lost the game to the Dolphins, but A-Rod's gesture is undeniably wholesome. Rodgers, who was undoubtedly happy with the victory, signed the ball rookie cornerback Kader Kohou picked off in the endzone. He wrote, "Merry Christmas" alongside his signature.
It was indeed a merry day for the Packers Nation. Dolphins rookie Kader Kohou may have been disappointed with the game's outcome, but will no doubt find appreciation for his interception. With this victory, the Packers' once-unlikely chance at a playoff spot has been resuscitated.
Rodgers gets on the NFL world's good side
WSVN anchor Josh Mozer tweeted an image of the ball which Rodgers signed. The NFL world who have been looking forward to the matchup had some thoughts about the QB's gesture.
One user thinks A-Rod is cool
Another fan thinks fans could learn a thing or two from players
I love how the players respect each other. Fans could learn

— Tim (@TimNagle55) December 26, 2022
This fan rhetorically asked
A class act! How can you not like the guy 🥰

— Clover in Texas (@CloverinTexas1) December 26, 2022
One fan makes a bold statement
Sad thing is he cares more about that autograph than his dolphins team winning the game prob … sad times

— Keith Brady (@JKBrady116) December 26, 2022
ADVERTISEMENT
Article continues below this ad
One user stated something that hasn't had much discourse recently
ADVERTISEMENT
Article continues below this ad
Currently, at 7-8, the Packers are tied with the Lions for second place in the NFC North. With three consecutive victories in the bag, they will take on their divisional rivals who have also clinched the division. The Minnesota Vikings have been almost unstoppable this season. The Packers' next bout will be essential to keeping their already slim chances at the playoffs alive. So you think the Packers stand a chance against the Vikings?
Watch This Story: Tom Brady May Have Upset $155.8 Billion Worth Business Magnet With A Like On Twitter
Edited By: Gurjyot Singh Dadial