Shaquill Griffin Rues taking New York Giants lightly after the shocking loss
Published 12/11/2020, 6:13 AM EST

Follow Us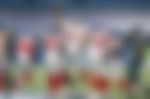 Until last week, the Seattle Seahawks were one of the favorite teams in the NFL. But everything changed in one night. The Seahawks lost 1-12 against the New York Giants. Seattle Seahawks' cornerback Shaquill Griffin says they lost because they underestimated their opponents. Had they not taken the Giants lightly, maybe the result of the match would have turned out differently.
"That team was not supposed to beat us. Let's be totally honest, they were not supposed to win that game, and we have to live with that. That's the taste in our mouth that no one ever wants. That's the part that you can't go on with. We don't want that feeling anymore, we let that game get the best of us. We came in taking the team lightly, just being totally honest. In this league, you can lose to anybody if you don't play right. I feel like we took that game lightly, and our focus point now is just refocusing—treating every team the same, like a championship game that we preach about. We've just got to live by it," said Seattle Seahawks' cornerback Griffin.
ADVERTISEMENT
Article continues below this ad
Seahawks shouldn't have lost
The Giants have had a terrible start this season. Many players got injured, like for starters they lost their running back Saquon Barkley for the season. Next on the list is their running back Saquon Barkley suffered a hamstring injury and was out. They replaced him with Colt McCoy as their starter quarterback.
There was no reason for the Seahawks to lose against the Giants, but it happened. The Giants' defense was pretty heavy on Russell Wilson and the entire Seahawks' offensive front. Surprising Wayne Gallman played really well. Gallman along with the rushing attackers could put up a strong fight and become victorious over the Seahawks.
"You've got to attack it head-on, you've got people who want to beat around the bush a little bit and shy away from what is actually going on, what actually happened. What's great about this team and this organization is we don't do that," said Griffin.
Griffin talked bluntly, stating facts about what happened and why they lost, hoping to avoid such discrepancies in the future.