"Shut The F*ck Up!": Stefon Diggs Buries Patriots Fans After Scoring a Touchdown
Published 12/27/2021, 8:39 AM EST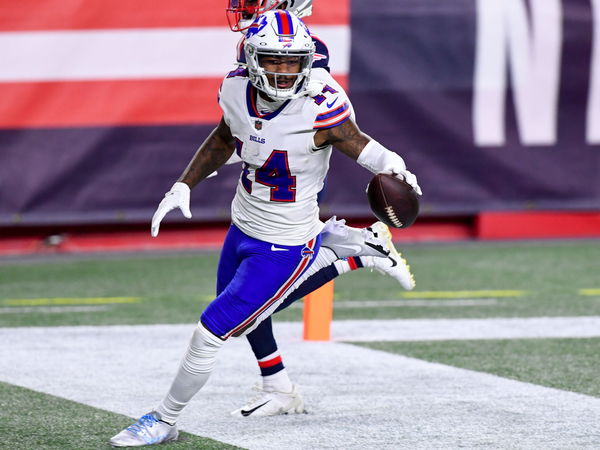 ---
---
The Buffalo Bills and New England Patriots game last night was wild. It was hard-hitting, physical, and emotional. But in the end, to many people's surprise, the Bills came out on top. Every game between these two division rivals is mental. The Patriots and the Bills hate each other. So it should come as no surprise that both of them take shots whenever they get an opportunity. Who does not like to tell their enemies to shut up, and I am better than you? That is exactly what the Buffalo Bills wide receiver Stefon Diggs said. His mic picked up an explicit message for the Patriots fans. 
ADVERTISEMENT
Article continues below this ad
Stefon Diggs buries Patriots fans
ADVERTISEMENT
Article continues below this ad
The fans that are sitting in the stands near the end zone are always a part of the action. From giving beers to the home team players to abusing the visiting team, they've done it all. But the thing that is more satisfying to see is when a player gets back at the enemy fans. 
Deep in the second quarter, the Bills were up by three points. The score was 10-7. But Buffalo wanted more. They wanted to extend their lead. The quarterback, Josh Allen, was looking for a receiver to pass the ball inside the end zone. He found Stefon Diggs and threw a 12-yard touchdown pass. The touchdown extended their lead by seven more points. To celebrate the TD, Stefon walked towards the stand near the end zone. The seats were filled with angry Patriots fans. Diggs pointed towards them and said, "You, you, you, you, you, and you: Shut the f*ck up!" 
ADVERTISEMENT
Article continues below this ad
This gesture made the Patriots' fans mad. Not only was their team losing the game, but they were being trolled by the competition.   
Buffalo Bills moving forward
ADVERTISEMENT
Article continues below this ad
The game ended with a score of 33-21. The Bills had an amazing showing in week 16. With the win, they have tied the 9-6 record of the New England Patriots. At the moment, the Bills are on the top of the AFC East table. Both the teams are still the favorites to make it to the playoffs. The Miami Dolphins are still in the race if they are able to win the next two games. The fight is still tough in the AFC East division. It will be very interesting to see who makes it to the playoffs this year.