Simply Embarrassing! Arizona Cardinals Trolls Themselves With Unique Christmas Message
Published 12/24/2021, 7:50 AM EST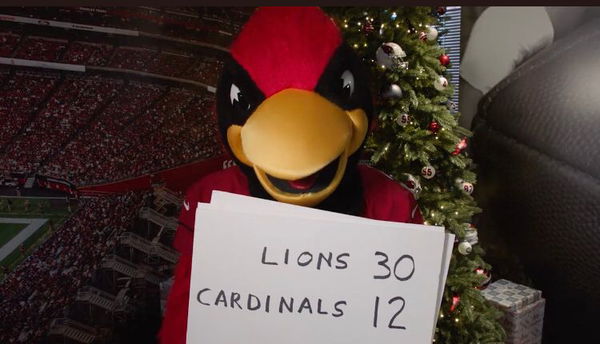 ---
---
The 10-4 Arizona Cardinals for the first time in the season are on a losing streak. These past few weeks have been very stressful for the Cardinals to deal with. Going from a seven-game winning streak at the starting of the season completely dominating the league to losing to the miserable Detroit Lions in Week 15, the Cardinals have yet to get back in their original form.
ADVERTISEMENT
Article continues below this ad
The last thing in the season anyone could have expected a league-leading team to lose against a league trailing one. But guess what, it just happened. But the Cardinals seem to joke about it on the occasion of Christmas, instead of feeling ashamed of it.
ADVERTISEMENT
Article continues below this ad
In a recent video shared by Arizona Cardinals on Twitter, the Cardinals' mascot was with some hilarious yet embarrassing greetings in hand. As he slides the sheets revealing the message behind it, it only gets funnier.
Arizona Cardinals laughing at their own misery
"It's the time of the year when football and family take on special meaning. But for now let us say just because it's Christmas (and at Christmas, you tell the truth) Lions: 30 Cardinals: 12. Merry Christmas and Happy Holidays! Love actually, the Arizona Cardinals." the cards read.
ADVERTISEMENT
Article continues below this ad
This past week has been a nightmare for the Cardinals after they were overpowered by the then 1-11-1 Detroit Lions on Sunday. The Lions dominated the game through and through giving the visitors no chance to make a comeback. The Cardinals quarterback Kyler Murray finished the game by completing 23 of 41 passes covering 257 yards with a touchdown and an interception.
However, Arizona still remains at the top of the NFC West-leading the Los Angeles Rams with the same record. The Cardinals will be prepared to go up against the Indianapolis Colts in their Week 16 matchup. When they return home for their matchup, this might be the game when they end their losing streak.
ADVERTISEMENT
Article continues below this ad
Do you think the Arizona Cardinals' losing streak will end in Week 16? Write your comments below!