Skip Bayless Buries Aaron Rodgers: 'Makes Me Sicker Than Even Kyrie Makes Me'
Published 01/01/2022, 7:41 AM EST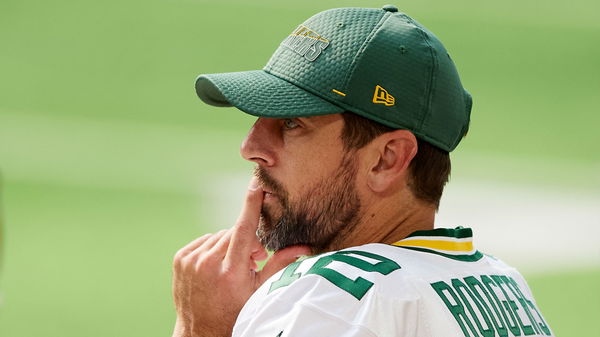 ---
---
Throughout his career, Aaron Rodgers has made many fans, but he has also made an equal amount of haters. This perfect balance of love and hate was on full display in a recent episode of 'UNDISPUTED.' One of the harshest critics out there ripped Aaron Rodgers to shreds, metaphorically. If you want a 100% unfiltered opinion, look no further than Skip Bayless.
ADVERTISEMENT
Article continues below this ad
Ever since Aaron Rodgers has been in the talks of winning the MVP award, many have argued that decision. But when he started hinting about retiring, nobody came hard at Rodgers than Skip Bayless and Shannon Sharpe. Bayless expressed his fury by comparing Aaron to his most disliked NBA player, Kyrie Irving. 
#Packers Aaron Rodgers said he isn't ruling out the possibility of retiring after this season and won't drag out his decision once it's been made.

— Lily Zhao (@LilySZhao) December 29, 2021
ADVERTISEMENT
Article continues below this ad
How did Aaron Rodgers make the analysts mad?
During a segment on the episode, they were discussing Aaron Rodgers saying he wouldn't "rule out" the idea of retirement. Shannon Sharpe seems to have had enough of this.
He said that Rodgers is only doing this for attention. Sharpe believes that the Packers have given Rodgers everything, so what does he want now? There's no denying Rodgers' talent, but according to Sharpe, bringing retirement up is a waste of time. Sharpe said, "He knows exactly what he's doing," Shannon adds, "My thing is, what can they give you?" 
Sharpe also thinks that Rodgers is making the future of the Green Bay Packers uncertain because that is what they did to him. So Rodgers is trying to give them a taste of their own medicine. 
Skip Bayless' reply to Shannon Sharpe
ADVERTISEMENT
Article continues below this ad
Following Sharpe's comments, Skip Bayless said, "Shannon Sharpe, I know how much you love Aaron as a quarterback on the football field, during football games." Skip continues, "But I gotta tell you, I got no use for him on and off the field because of this. Aaron Rodgers makes me even sicker than Kyrie makes me."
The 'Kyrie' Skip Bayless was referring to is NBA star Kyrie Irving. This one statement summed up the entire point Bayless was trying to make. He believes that Rodgers just wants everyone to give him sympathy. 
ADVERTISEMENT
Article continues below this ad
What do you make of Skip's comments?
Watch Stories: From Cincinnati Bengals to LA Chargers; NFL Teams With the Highest Cap Spaces