'Slide!' – Aaron Rodgers Gives Career-Saving Advice To Cincinnati Bengals QB Joe Burrow After Throat Contusion
Published 10/13/2021, 7:42 AM EDT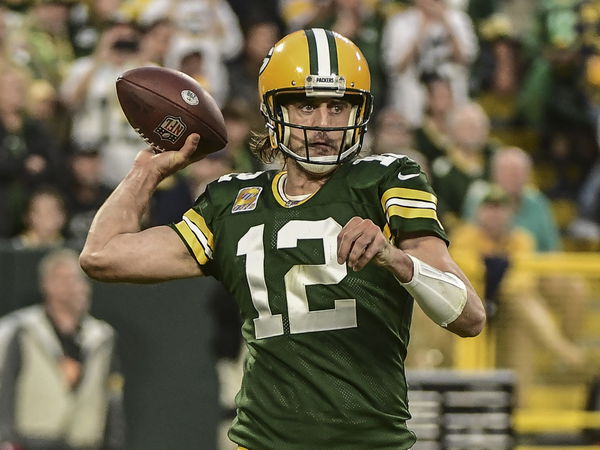 ---
---
Joe Burrow suffered a gruesome injury during Cincinnati Bengals' week five fixture against Green Bay Packers. A possible throat contusion could rule out the Bengals quarterback for months. After the game, Green Bay's star quarterback Aaron Rodgers had some advice for 'Joey Franchise', which he revealed on the Pat McAfee show.
ADVERTISEMENT
Article continues below this ad
Aaron Rodgers has valuable advice for Joe Burrow
ADVERTISEMENT
Article continues below this ad
Joe Burrow displayed his intensity during a ferocious game against Green Bay. Going up against Aaron Rodgers' warriors was not going to be an easy task, and Rodgers' elastic arm worked magic once again. The Packers won 25-22 in overtime, but the Bengals lost more than just the game. With a throat contusion, Joe Burrow could miss a significant amount of matches, detrimental to the Bengals.
Burrow has been Cincinnati's rock this season, and the man's simply too talented. Aaron Rodgers acknowledged that on the Pat McAfee show, but also spilled some valuable advice for the quarterback. If I were Joe Burrow, I'd play close to attention to what 2020s MVP of the season had to say.
"I'm a Joe Burrow fan, I enjoy the way he goes about his business, I enjoy the way he plays with confidence. I will tell you the thing that I told him, which I've told other quarterbacks from time to time: Slide. Slide," Rodgers said. "I said, 'You're too damn talented, you got so much in front of you to accomplish in this league, just sometimes you gotta slide.' I would've told the same thing to Andrew (Luck)."
Rodgers even addressed claims of sliding being the less tough option. He cited Lamar Jackson, who doesn't need to slide because he's quicker than a gazelle. But for someone like Burrow, maybe sliding is the right choice. Rodgers said, "I don't feel like sliding makes you less tough. It's just sometimes the smarter thing to do."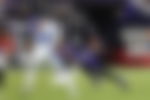 When can we expect Joe Burrow back?
ADVERTISEMENT
Article continues below this ad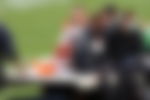 A throat contusion is a serious injury that could shorten a player's career. Joe Burrow threw two touchdowns, only to be negated by two interceptions, and that demanded a stronger performance by the former Player of the Week. He actually slid to get a first down in the third quarter while the Bengals were down 14-19.
However, if only he took Rodgers' advice earlier. In the second quarter of the game, with the Packers leading 9-7, Burrow charged down midfield to pick up a first down. Unfortunately, he took a big hit from Packers' safety Darnell Savage. Burrow hit the turf head first, and looked visibly dazed for the next few minutes.
ADVERTISEMENT
Article continues below this ad
He continued the rest of the game, which ended in heartbreak for the Bengals. But, the real problems arose after the game when Burrow's teammates noticed he found it difficult to speak. Speculation of a throat contusion came up, which could rule Burrow out for weeks at the most.