"Smashed My TV in Front of 22 Guests at My Sons Birthday Party": NFL World Cannot Stop Laughing at Dallas Cowboys Fans' Misery Losing to 49ers Again
Published 01/24/2023, 7:26 PM EST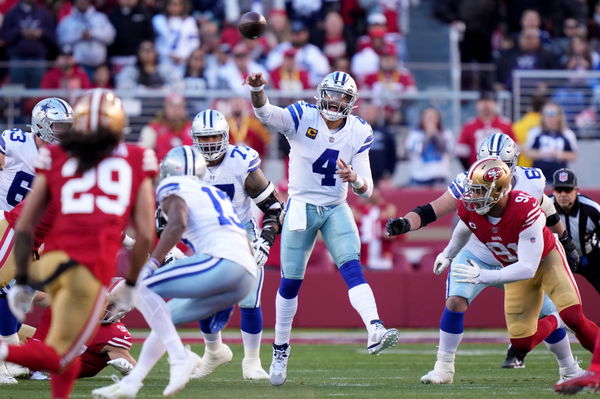 This is the second time straight in the past two years, the Dallas Cowboys got slayed by the hands of the mighty 49ers in the playoff matchups. When last time, it was during the Wild Card face-offs, this season, the NFC Divisional round games turned out to be a bitter experience for America's team. Not to mention Dak Prescott's inaccuracies and turnovers became an added embarrassment.
The Super Bowl drought continues to haunt Jerry Jones and his men in blue. Despite bragging about a formidable side filled with great talents, the franchise failed to exhibit what it takes. Subsequently, the fed-up Cowboys fan base went crazy on social media. They vented their frustration on Television sets and NFL jerseys, triggering followers worldwide to share similar experiences online.
ADVERTISEMENT
Article continues below this ad
Interestingly, a few of them even fabricated crazy stories claiming that this team ruined their marriage. While the Miners fan base took advantage of this situation and rubbed more salt over these wounds.
Just smashed my TV in front of 22 guests at my sons birthday party because of the Cowboys. My wife just took our crying kids and said they're all spending the week at her mom's house. This team has ruined my marriage. I can't handle this anymore. Goodbye, I am no longer a fan.

— entitled (@PythonBro) January 24, 2023
Feels so good to be a Niner fan! Since 81!

— Ricas Pupusitas (@RicasPupusitas) January 24, 2023
Not the sharpest tools in the shed! Such manly responses! lol LOSERS!

— Shirley Strosnider (@SAStrosnider) January 24, 2023
This is why everybody laughs at cowboys fans! No team gets up hyped up so much as this team! America's tease lol!

— Dolphins26 (@Dolphins261) January 24, 2023
I've been so disappointed I wanted to cry from losses before. Said I hated players I really didn't. But to break a TV or burn a jersey of a player that you supported at one point, that gave it there all, makes zero sense to me. And it's actually disturbing to see.

— santacruzducks (@dougmaher434) January 24, 2023
No doubt, looking at the current scenario, Dak Prescott will have to grind more. Because in all three instances when he led the Cowboys toward the divisional round games, the team couldn't progress further. The recent 19-12 loss on Sunday showcased plenty of inaccuracies, including his two interceptions.
Prescott completed 23 of 37 passes for 206 yards and recorded a touchdown in the second quarter. While speaking in the post-game press conference, the passer admitted his disappointment and took the overall responsibility for this loss.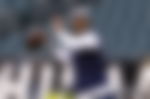 "I'm disappointed in the way that I've played. Those guys in that locker room gave it all. Both sides of the ball. And put me in a position to go win the game and I wasn't able to do that," he said, via ESPN. "And, yeah, I mean, I put it on my shoulders. When you play this position, when you play for this organization, you've got to accept that," he added.
What is the aftermath of the Dallas Cowboys losing to the Miners?
ADVERTISEMENT
Article continues below this ad
Well, the situation is quite complicated because Jerry Jones is spending time swallowing this defeat. A major revamp through introspection is essential to meet their future plans.
Both Dak Prescott and head coach Mike McCarthy's future in this franchise remains uncertain, although the Billionaire owner assured the security of their jobs.
ADVERTISEMENT
Article continues below this ad
One of the major setbacks for the team happened to be the frequent injuries that kept most of their frontmen on the sidelines. Hence there is a need to secure the depth chart. It will be interesting to see how the management makes more addition to strengthen their offensive and defensive units.
Watch This Story: Go back to New England: This NFL Analyst Wants NFL GOAT Tom Brady To Return To Former Team New England Patriots
Edited By: Deepika Bhaduri