"Soap Operas Come to an End": Wisconsin Governor Slams Aaron Rodgers for Choosing Jets Over Packers
Published 03/17/2023, 12:26 PM EDT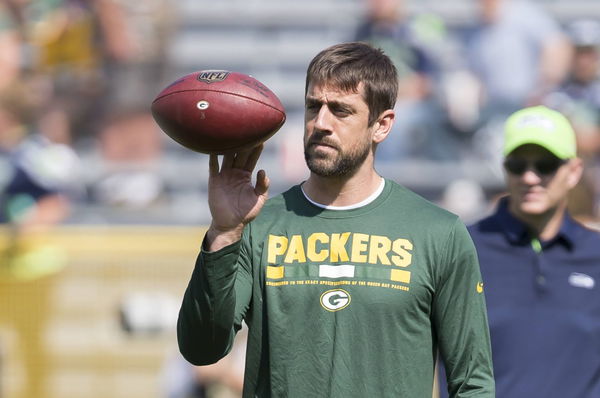 The Aaron Rodgers-Green Bay Packers drama seems to be finally sorting itself out. Earlier, the four-time NFL MVP was contemplating between retiring and a move away from Green Bay Packers. The Jets were also speculated to be the best possible landing spot for Rodgers, but nothing was revealed as A-Rod continued being as tight-lipped as ever. However, Rodgers went on to make ground-breaking revelations during his appearance on the Pat McAfee podcast. As most people were eagerly waiting for it, Rodgers did declare his intention, and the team he wants to go to.
The Governor of Wisconsin, Tony Evers, however, compared the ongoing trade drama to nothing short of a "soap opera", but maybe the man is just salty.
Time to move on for Aaron Rodgers
ADVERTISEMENT
Article continues below this ad
Football fans found themselves elated, as Rodgers announced his return to the field. His choice of uniform however inflicted a blow at the Packers nation.
As Rodgers seemed confident and crystal clear about his choices, he said on the Pat McAfee show, "Since Friday I made it clear that my intention was to play and my intention is to play for the New York Jets,"
Ever since, the revelation, the NFL world has been going crazy, as many must be patting themselves on the back for successfully predicting this.
The drama around Rodgers did rub many influential people the wrong way, including the Governor of Wisconsin, Tony Evers.
Wisconsin Gov. Tony Evers on Aaron Rodgers: "It's been kind of a soap opera and I'd like to see soap operas come to an end. So this is good…" pic.twitter.com/IdPuBZNcHy

— Matt Smith (@mattsmith_news) March 15, 2023
Evers felt that the chaos surrounding Rodgers was nothing short of a soap opera, "It's been kind of a soap opera, and I'd like to see soap operas come to an end. So this is good," Evers said of Rodgers's decision. "God bless him, though, he was good for many, many years here, and he wants to move on, and the team wants to go in a different direction. At least we know that it's done, We can focus on other things and focus on getting the Packers' new quarterback in a better position," he added.
The governor expressed his optimism and best wishes for Rodgers while hoping that the Green Bay franchise will make the right choices in successfully replacing a player of his caliber.
ADVERTISEMENT
Article continues below this ad
The reason behind the move?
Aaron Rodgers felt that his time with Green Bay Packers has finally come to an end. Despite enjoying a ton of success with the Green and Gold, he felt a sense of disconnect over the recent years.
"There were some conversations around what you gonna do in the offseason, that honestly didn't have a big barrier on it. Felt it was my last time in Green Bay as a starting quarterback" said Rodgers while explaining his decisions.
ADVERTISEMENT
Article continues below this ad
Watch This Story: "And I'd say, he's a fu*king": Aaron Rodgers puts wishlist rumors to bed once and for all
He even eluded to the Packers being in a different era and felt that it was a different regime than the one he came in. With Jordan Love waiting eagerly to prove his worth as Rodgers' successor, the Packers have walked this route as fifteen years back Brett Favre moved to New York making way for Aaron Rodgers